The venture firm SOSV has already raised its biggest fund to date, and it isn't quite closed
Publisher:
TechCrunch
Thursday, 25 April 2019 14:33
SOSV, a multi-stage venture firm that was founded as the personal investing vehicle of entrepreneur Sean O'Sullivan after his company went public in 1994, then re-launched as a traditional venture firm with outside backers in 2015, has raised $218 million for its third fund.
The vehicle has a $250 million target that SOSV expect to meet by year end, but already, it's substantially larger than the firm's previous fund, which closed with $150 million.
SOSV is best-known for the numerous accelerators it has created and oversees, including hardware-focused HAX, and IndieBio for life sciences startups. Yesterday, we were in touch with SOSV partner Daniel Eichner — who's in charge of raising capital for the outfit, as well as introducing its portfolio companies to potential future investors — to learn more what else is new at its eight offices around the world, including in Cork, Ireland; Princeton, N.J.; New York; San Francisco; London; Shenzhen; Shanghai; and Tapei.
Among the many things we learned: the firm now has eight senior partners who ultimately decide where capital gets invested, and a whopping 110 people across the U.S., Europe and China, including support staff that to help its startups go from lab to market.
The firm has also earned some bragging rights, including as the lead investor in the electric bike company Jump Bikes, acquired last year for an undisclosed amount to Uber. It also some highly valued companies in its portfolio currently, including the 3D printing "unicorn" FormLabs; the peer-to-peer ride-sharing company GetAround, which just acquired a French company yesterday to extend its reach into Europe; and Makeblock, a Shenzhen, China-based company that sells robot kits for kids and most recently raised $44 million in Series C funding.
The firm hasn't shied from some more ambitious bets, either including one on BitMEX, a crypto exchange based in Hong Kong that's focused on cryptoderivatives and in which SOSV is the only institutional investor.
Most of the founders it backs — 80 percent, says Eichner — are first-timers, though "many have years and sometimes decades of work experience,"  he adds.
As for the size of the checks SOSV writes, its accelerator deals are standardized for each program, but the smallest check is for $100,000 for software startups or $250,000 for hardware and life sciences startups. Meanwhile, the most it will invest is up to $2 million, across multiple rounds, with its biggest bet to date being SyntheX, a designer therapeutics company in which SOSV owns a 20 percent stake.
Eichner explains that SOSV aims for between 8 percent and 16 percent ownership at the accelerator phase, then looks to either establish or maintain a 15 percent stake in the top 20 percent to 30 percent of its companies.
Despite its many far-flung offices, we asked if SOSV tends to support more founders in the U.S. than elsewhere, or vice versa. Eichner says that about half of SOSV's portfolio companies are in North America, with another quarter in Asia, and the rest split between Europe and the rest of the world.
Pictured above: Firm founder Sean O'Sullivan.
Elizabeth Warren delivers breakthrough moment at presidential forum for women of color
Publisher:
Daily Kos
Thursday, 25 April 2019 14:30
Democratic presidential candidate Elizabeth Warren had just been asked in front of a live Houston, Texas, audience—predominately women of color—why they should trust that a female candidate can prevail in 2020 after the pitfalls of Hillary Clinton's 2016 bid. Sen. Warren turned her head to the audience at the inaugural She the People presidential forum and threw some playful shade at them, glaring just over the brim of her glasses with a disapproving schoolmarm affect. "I think that's called side-eye," jested She the People president and forum co-moderator Aimee Allison. Then Warren inched forward in her chair to engage, sat upright, and leaned in heavy on the discomfort many women still feel after being burned by the divisive gender politics of 2016.
"This is the heart of it," she began, tapping her hand to her chest, "it's, how are we going to fight? Not just individually, but how are we going to fight together? Are we going to fight because we're afraid?" she posed, challenging the women in the room to confront their own fears. "That's not who we are. That's not how we're going to do this." 
"Here's how I see this," she continued, prompting an audience member to call out, "Tell us how you see it!"Â 
"I'll tell you how I see it," Warren responded with a chuckle, literally pushing up the slightly rolled sleeves of her Kelly-green blazer to get down to business. 
"We got a room full of people here, who weren't given anything. We got a room full of people here who had to fight for what they believe in. We have a room full of people here, who had to reach down deep, and no matter how hard it was, no matter how scary it looked, they found what they needed to find and they brought it up and they took care of the people they love," Warren said, lifting her hand from a downward-pointed forefinger summoning the depths of one's soul to the clenched fist of resolve. "They fought the fights they believe in—that's how they got into these seats today." 
It was raw motion rooted in a story she then shared with the audience about the moment when her mom taught her that, when the chips are down, somehow you always find a way to go to battle for the ones you love. She was in middle school and her father, the sole breadwinner, was gravely ill. In the dark hours of the night, she would learn terms like "mortgage" and "foreclosure" as she listened to her parents talk about losing the family home. Then one day, she went into her parents' bedroom where her mother, crying and pacing, was moving her eyes between her little girl and the bed where she had laid out her finest dress, muttering all the while, "We will not lose this house. We will not lose this house." At 50, her mother had never worked outside the home, Warren said, but she finally blew her nose, slipped on her dress, and went out to land a minimum-wage job answering phones at Sears that put food on the table, saved their home, and saved their family.  
Racist Asshole Shows Racist Ass
Publisher:
The Root
Thursday, 25 April 2019 14:30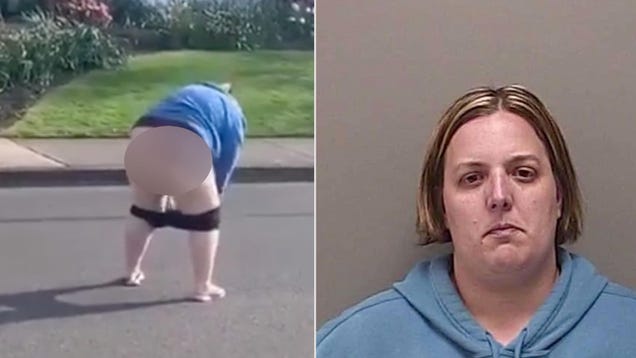 An Oregon family was either the victims of a hateful attack or recipients of free LASIK surgery after their racist neighbors approached them on Easter and burned their retinas with visions of Caucasian butthole.

<< < Prev 1 2 3 4 5 6 7 8

9

10 Next > >>