Here's How To Get BTS' BT21 x Uniqlo T-Shirts & Wear Your Bias Everywhere
Publisher:
Elite Daily
Wednesday, 19 June 2019 09:39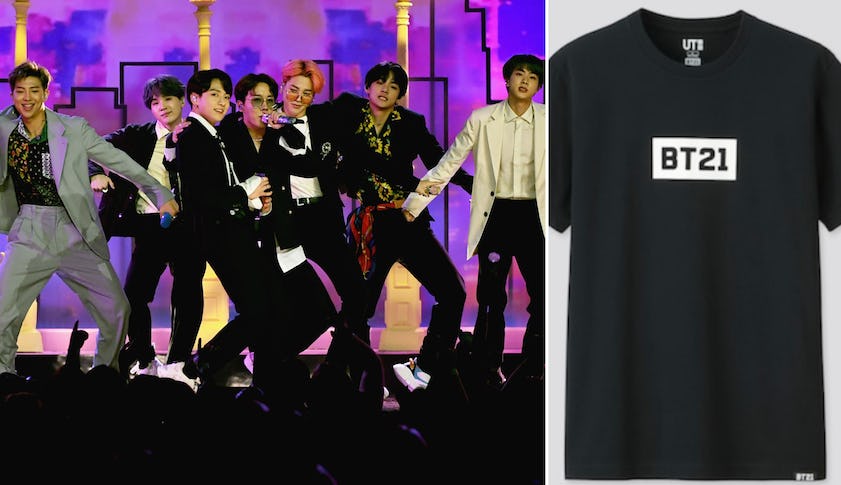 It could be that I've just never paid as close attention to any other celebrity in my life the way that I've paid attention to BTS, but these guys are seriously taking over the world. That's not hyperbole. I'm dead serious. From building out entire virtual worlds, to optimizing social media platforms, to setting music records, there is hardly an industry or resource out there that BTS hasn't laid its perfect hands on. Now, they're coming for the fashion world via Uniqlo and ARMYs are hyped. Here's how to get BTS' BT21 x Uniqlo t-shirts so you can keep the finger hearts a-comin' and rep your bias everywhere.
Here's the skinny: BTS joined with Line Friends' Creators in 2017 to create BT21. Line Friends' Creators is described as a collaboration between the messaging app Line and various global artists to create characters and products for adoring consumers and fans to devour everywhere. BT21 includes eight animated characters lovingly designed by J-Hope, Jimin, Jin, Jungkook, RM, V, and Suga. The character's names each represent one BTS member and famously go by the names Tata, Mang, Chimmy, RJ, Joya, Cooky, Shooky, and Van. (It's worth noting that Van is actually the eighth BT21 character and is what fashionista.com describes as "the gray-and-white space robot, who helps to protect BTS at all times." Love ya, Van.)
Beginning on June 21, fans can just jump online and/or stroll into any physical Uniqlo store and browse the twelve perfect t-shirts available to purchase at the super chill cost of $14.90. (Doesn't that sound, like, really affordable?) Check out some of these joyful designs!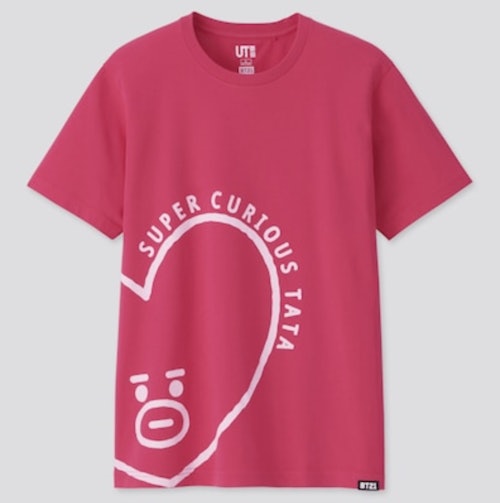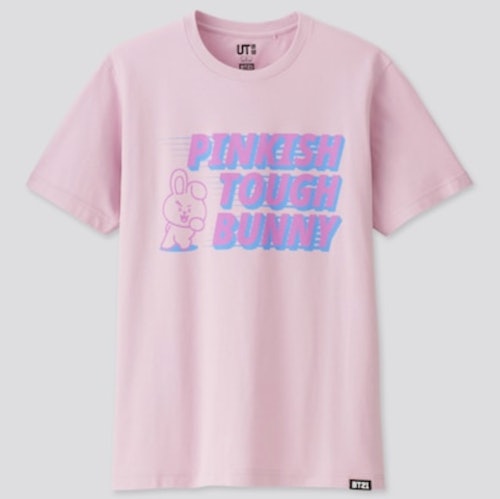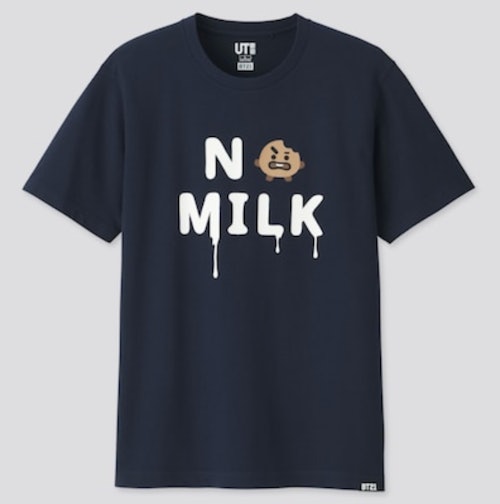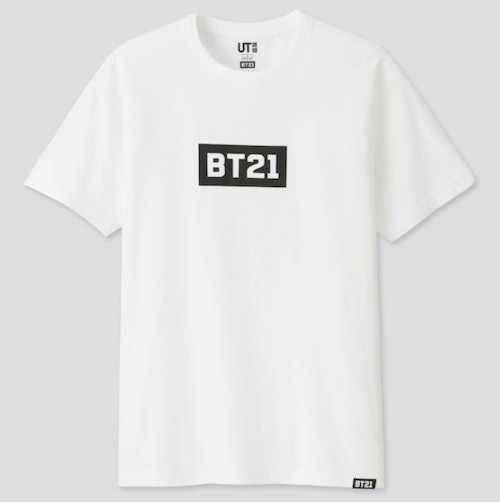 If you pop over to Uniqlo's website, you're able to read a little more about the birth of BT21 x Uniqlo and learn about the purchase and return policy, too. Uniqlo's site explains:
BT21 is the first project of LINE FRIENDS CREATORS. Its a new IP created through the collaboration between LINE FRIENDS and BTS. BT21 consists of eight different charming characters created by BTS members, who all actively participated in the whole process from drawing sketches to execution.
There is also a stipulation that both online and in-store t-shirt purchases are limited to one item per size/color/pattern per customer. A little bossy, but I get it. If the brand left this sh*t wide open for any ARMY to come in and just scoop up all the Chimmy shirts available then there wouldn't be any for the rest of us. It'd be like Black Friday sales at Walmart but even more destructive thanks to the quintessential ARMY strength that lives in all of us.
Anyway, mark your calendars. Friday, June 21 is rapidly approaching and it's better to have a game plan going into this product launch than to just throw yourself at the BT21 shelves and hope you land on your own bias t-shirt.
Thank you for the endless gifts, BTS! The music, the clothing, the concerts, the games, the stickers, the photos, the videos... you guys get it.
Bose speakers, Samsung wireless chargers, Roomba vacuum cleaners, Philips juicers, and more on sale for June 19 in the UK
Publisher:
Mashable
Wednesday, 19 June 2019 09:39
We know what you like. You like deals, on all the biggest brands, and that's exactly what we've got for you. We have lined up discounted devices from the likes of LG, Samsung, Bose, Philips, and more. 
You can save on a wide range of devices for the home and kitchen, including coffee machines, juicers, smart scales, robot vacuum cleaners, and even kettles. We have also included a select group of the very best deals on everything else, like gaming subscriptions, 4K TVs, and smart speakers.
These are the best deals from across the internet for June 19.
Best of the best
Your chance to save on gaming subscriptions, smart speaker systems, 4K TVs, and wireless chargers from the likes of Samsung, Toshiba, and LG. Read more...

More about Smart Home, Mashable Shopping, Kitchen Appliances, Shopping Uk, and Uk Deals
Norton Secure VPN is half-price at under £20 for a whole year
Publisher:
Mashable
Wednesday, 19 June 2019 09:39
TL;DR: Sign up to a comprehensive Norton Secure VPN service for under £20, saving 50 percent on list price.
---
When it comes to keeping your private information safe, you need the best in protective technology. Passwords, bank details, and credit card numbers are not the sort of thing you want to leaked, so you should invest in a VPN that can keep them away from prying eyes.

Norton Secure VPN uses bank-grade WiFi security encryption, meaning you can use your Mac, PC, or mobile device securely, even on public WiFi hotspots and unsecured networks. The service lets you you browse the Web anonymously, so your online privacy is protected from being tracked by online advertisers and other companies. Think of it like your online safety blanket Read more...

More about Vpn, Mashable Shopping, Shopping Uk, Uk Deals, and Norton Security
Senate Negotiators Reach Deal On Emergency Funding For Border
Publisher:
Newsy Headlines
Wednesday, 19 June 2019 09:39
Watch Video
Senate negotiators have come to a tentative agreement over an emergency funding bill for the U.S.-Mexico border, according to multiple outlets.
Aides say the almost $4.6 billion deal was worked out between Senate Appropriations Committee Chairman Richard Shelby, a Republican, and Sen. Patrick Leahy, who is the ranking Democrat on the panel.
Officials within Departments of Homeland Security and Health and Human Services have warned they could soon run out of funds amid the increasing number of migrants attempting to cross the southern border.
The majority of the bill's funding — about $2.9 billion — is slated to go toward HHS, which takes care of most unaccompanied migrant children who arrive in the U.S. until officials can find a relative or sponsor to unite them with.
The deal roughly matches the $4.5 billion in emergency funding the White House requested in May for operations at the border.
The legislation still needs to be marked up by the Senate Appropriations Committee before it can be sent to the full Senate, where a floor vote is expected to happen before lawmakers leave for their July 4th recess in late June.
Additional reporting from Newsy affiliate CNN.
Meet the Democrat challenging Lindsey Graham


Publisher:

Newsvine


Wednesday, 19 June 2019 09:38



Jaime Harrison is a South Carolina Democrat who is making a bid for Lindsey Graham's Senate seat, and he's using Graham's own words against him in a new ad. Harrison joins Morning Joe to discuss why he thinks he can win in a reliably Republican state.
<< < Prev 1 2 3 4 5 6 7

8

9 10 Next > >>