Here's exactly how much you'll pay your mortgage company over 10, 15, or 30 years
Publisher:
business insider
Saturday, 23 February 2019 12:15
When comparing a 15-year mortgage versus a 30-year mortgage, it helps to figure out how much you'll pay in total over time.
Using the standard mortgage calculation formula, we estimated how much mortgage borrowers will pay their mortgage providers over time.
Interest rates are critical to how much money a borrower will pay, but so is the time period.
Buying a house is one of the largest purchases many people will make over the course of their lives. And a mortgage will be one of the biggest loans a person will take out.
Monthly mortgage payments are generally calculated using a formula that combines the principal (the amount of money borrowed in the loan), the annual interest rate for the loan (what the lender charges you to borrow that money), and the term of the loan (the number of years it will take to pay the mortgage off).
The formula works backwards from the idea that each month, a borrower will be charged interest on the remaining balance of the loan, and then that balance will be reduced by the amount of the monthly payment. For a standard fixed-rate, fixed-term mortgage, we know how many payments the borrower will be making, and so we can figure out exactly how much they need to pay each month so the remaining balance of the loan is zero at the end of the term.
Using that basic mortgage payment formula, we can come up with some estimates for how much you'll end up actually paying your mortgage provider over time, based on some of the key parameters of the loan.
A bonus just for you: Click here to claim 30 days of access to Business Insider PRIME
The term of a loan is a huge factor in how much a borrower will pay in total. Shorter-term loans will have a higher monthly payment, but because there is less time for interest to compound, borrowers on a shorter-term loan will end up paying much less interest overall.
Indeed, author Chris Hogan suggested in his book "Everyday Millionaires: How Ordinary People Built Extraordinary Wealth — and How You Can Too" that long-term mortgages are a big reason why many people don't become rich.
Interest rates also make a big difference in how much a borrower will pay back in total. Higher rates will lead to higher monthly payments and more total interest paid on the loan.
Let's assume that a borrower is taking out a $250,000 loan under the following three term and rate scenarios:
A 30-year term and a 4.25% annual interest rate, which at the time of writing is listed as the mortgage purchase rate offered by Wells Fargo.
A shorter 15-year term and a 4.25% interest rate.
A 30-year term, but a higher 5% interest rate.
Using the standard mortgage payment calculation, the two 30-year mortgages will have a lower monthly payment than the shorter-term 15-year mortgage:
Read more: The most and least expensive places to live in America
But that higher monthly payment means accruing less interest over time and paying off the principal of the loan faster. Here's what the three different scenarios would have paid off over the first 10 years of the mortgage:
After 10 years, the 15-year mortgage would have a much lower outstanding principal balance than the 30-year loans, and the slightly higher interest rate would result in a higher outstanding balance for the 30-year loan at 5% interest:
The effect of mortgage terms and interest rates can be seen in the total amount paid back to the bank at the end of the 15- or 30-year term. The shorter term leads to much less interest being paid overall, and the slightly higher 5% rate eventually leads to about $40,000 more in interest over a 30-year term:
Join the conversation about this story »
NOW WATCH: What it's like to do your own taxes for the very first time
Why Floor And Decor Wins The War For The Floor


Publisher:

Forbes Real Time


Saturday, 23 February 2019 12:12



A look at the shifting retail flooring industry with a deep-dive into Floor & Decor's four strategic pillars that make it a category killer in specialty floor retail and a major competitive threat to big-boxes Home Depot and Lowe's in the flooring space.
US Latinas rally around 'Roma' actress Yalitza Aparicio


Publisher:

FOXNews


Saturday, 23 February 2019 12:09



Yalitza Aparicio, the Oscar-nominated, first-time actress in "Roma," is finding strong support among Mexican-American women who identify with her indigenous roots despite backlash she is receiving in Mexico.
Sat Feb 23 '19 Announcement from CYRCUS - Erotic artbook
Publisher:
Indiegogo: Announcements
Saturday, 23 February 2019 12:07
Cartoomics si avvicina ecco quindi una piccolissima FAQ su come ritirare i vostri perk.
1) Cosa mi serve per ritirare la mia copia di CYRCUS acquistata durante il crowdfunding?
Presentati al tavolo 102 del Granadilla Lab col nome che hai usato per l'acquisto [non sempre corrisponde a quello reale, molti usano un nickname] e la ricevuta di Indiegogo [vedi immagine] che riporti il tuo numero d'ordine.
2) Non sarò presente a Cartoomics, posso mandare un/una amico/a a ritirare il volume per me?
Certo! Basta che segua le istruzioni al punto 1 e potrà ritirare tutto a tuo nome. Ricorda: senza la tua ricevuta di ordine di Indiegogo non potrà ritirare.
3) Ho preso l'opzione con spedizione ma sarò comunque a Cartoomics e potrò ritirare lì il mio perk: le spese di spedizione mi verranno rimborsate?
Ci rende felicissimi poterti incontrare e darti il tuo perk [segui le istruzioni per il ritiro al punto 1]. Le spese di spedizione, purtroppo, non possono essere rimborsate, ma saremo felici di darti un gadget a scelta tra segnalibro o cartolina per ringraziarti dell'immenso supporto che ci hai dato con il tuo contributo.
4) Vorrei farmi autografare la copia di CYRCUS da uno degli artisti che ha partecipato alla raccolta, come posso fare?
Nei prossimi giorni posteremo un calendario firme dei tre giorni, con tutti gli autori che partecipano ed i loro orari: ti basta presentarti al tavolo all'orario indicato.
Avete altre domande? Scriveteci in privato!
Ci vediamo presto al Cartoomics 8-9-10 Marzo!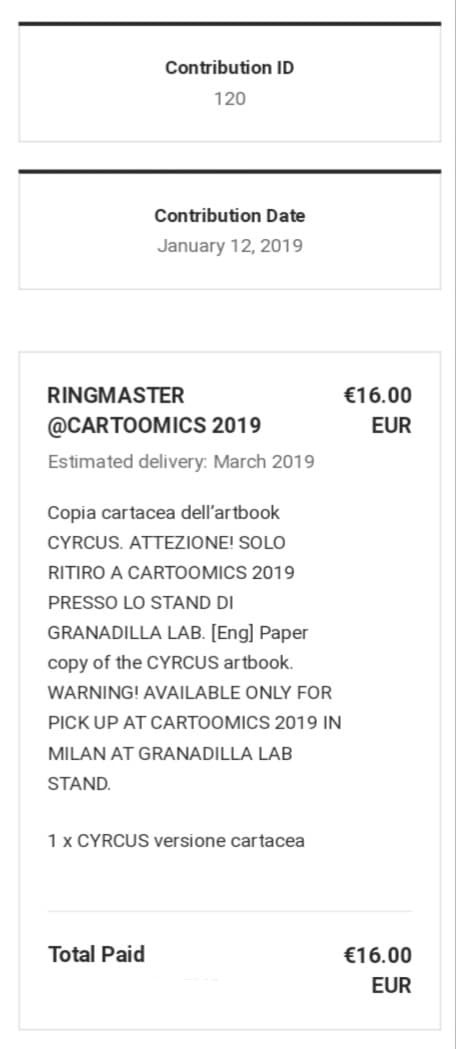 << < Prev 1 2 3 4 5 6 7

8

9 10 Next > >>