Tue Dec 18 '18 Announcement from Award-winning sensory kids' furniture Tink Things
Publisher:
Indiegogo: Announcements
Tuesday, 18 December 2018 04:06
To all of you sweet people who caught the first chair babies or supported us in any other way - thank you again!
We're preparing the production as planned, but also jumping on developing some new fun products that will be launched in Milan in a few months. Such exciting things ahead, but first... let's all catch some breath during the holidays. :)
Those of you who want the delivery guarantee and still didn't get it, please lemme know. I will be contacting you again before delivery to confirm your address.
Hope you all get a good nice rest in the days ahead and wish you all the loveliest things!
Dorja & Tink Things team
Tue Dec 18 '18 Announcement from The Winter Film Project
Publisher:
Indiegogo: Announcements
Tuesday, 18 December 2018 04:05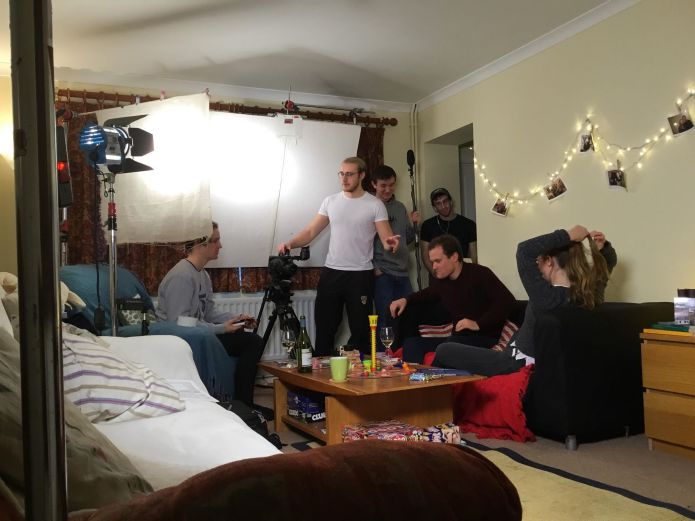 Yesterday, we wrapped on the first of our four films, Blame Games, directed by Alex Van Leeuwen. Playing board games is a strain on any relationship but this film pushes that idea to its extreme. We're really pleased with how it looks and that is all thanks to your help. We're now moving on to filming Quarter Life Crisis, directed by Robert Belok. Please share this on your social media so we can cover all the costs of making these projects come to life...
Tue Dec 18 '18 Announcement from Recycling of pet bottles and thermacol (polystyre)
Publisher:
Indiegogo: Announcements
Tuesday, 18 December 2018 04:05
I need fund to kick-start my ideas into realities. The reason why I'm here is coz, I don't have funds in my pocket. I wish you'll help me by sharing my campaign as much as possible so, that I can raise funds with which I can start my recycling of waste business as soon as possible. I've recently heard about the platform and I'm trying it and also I've some hope that I'll be able to start my dream project from here. This project is my dream project. I've research the details of the project and I'm sure that this project will never look behind once it gets start. My project is environment friendly project. I'll recycle polystyrene (styrofoam/thermacol/pets/(tyres in future)). Thermacol recycling is a huge challenge. Thermacol is nowa days becoming disaster for our environment and water bodies. The demand of pet bottles has increased manifolds in recent years. I want to grab the opportunity. This plant of recycling waste will not only help environment but, also will provide jobs to some extent and also I'll contribute 25%of the money that which I'll earn from the business to children welfare funds. I request you all to support me as much as possible. I need money to lease a land and to buy machines. If you can provide me the details then, I promise that I'll refund your donations to you in future. Thankyou
Study: Switching between devices is associated with poorer attention and memory
Publisher:
The Next Web
Tuesday, 18 December 2018 04:00

How many times have you sat down to watch TV or a movie, only to immediately shift your attention to your smartphone or tablet? Known as "media multitasking," this phenomenon is so common that an estimated 178m US adults regularly use another device while watching TV. While some might assume that frequently shifting your attention between different information streams is good brain training for improving memory and attention, studies have found the opposite to be true. Media multitasking is when people engage with multiple devices or content at the same time. This might be using your smartphone while watching TV,…

This story continues at The Next Web
Tonsser scores €5.5M Series A to help discover the next soccer star
Publisher:
TechCrunch
Tuesday, 18 December 2018 04:00
Tonsser, the Copenhagen-based startup that offers a "football performance app" aimed at youth soccer players who want to build their own online profile and potentially get discovered by a bigger club, has raised €5.5 million in Series A funding. The round is led by Alven Capital, with participation from existing investors SEED Capital and Wellington Partners
Currently launched in eight European countries — including France, Germany, Denmark, Sweden, and Norway — and claiming more than 800,000 football players registered on the app, Tonsser could well be described as akin to a LinkedIn for youth soccer players, perhaps with a bit of Instagram thrown in, but actually the company's mission is a lot more defined than that.
As reiterated in a call this week with Peter Holm, the soccer app's co-founder and CEO, Tonsser wants to make it easier for young soccer talent to become better players by learning and being inspired by each other and through sponsored competitions and soccer skills content. And, perhaps more lofty, the Danish startup wants to make the beautiful game more meritocratic by enabling unsigned talent to be discovered by professional football clubs through the app, and in turn help the soccer industry become more accountable. Impressively, he says this has already started happening.
At the heart of this mission is Tonsser's increasing emphasis on using technology and data — namely, sporting metrics — to help bubble up undiscovered players. The iOS and Android app's features include the ability to create your own soccer profile, upload and share photo and videos of match highlights, add various match and team stats, and follow other clubs and players. Tapping into some of this data is Tonsser's algorithm that gives every player registered on the app a dynamic score.
"After a match the Tonsser algorithm computes a rating for each player based on the individual performance, the performance of the team and 'Man of the Match' votes from teammates," explained Holm in a follow-up email.
"The rating system has been developed and tested over the past 3 years with pro licensed coaches and academies to provide the most accurate calculation for each player. Match after match and season after season the rating becomes the reference point for each player and the gateway for leaderboards, awards like Team of the Week and Player of the Season and also for pro trials, scout reports and the chance of getting discovered by clubs and scouts".
It's this data — or discovery engine — along with brand partnerships, and sponsored content, competitions and trials (see video below), that forms Tonsser's business model. The app is free for players and coaches, but scouts pay for special access. Related to this, I'm told that premier League clubs like Huddersfield are now using Tonsser to identify and scout youth talent.
To enhance this in 2019, Tonsser will add integrations with "automated video recordings" using computer vision, enabling players and teams to catch and share their match highlights in a simple way. It is also working on how to accommodate data from wearables to track physical performance and potentially feed this into the Tonsser score.
Meanwhile, Tonsser says the new investment will be used to support growth and to maintain the startup as the leading community for youth players. Holm says that 86 percent of French youth teams from 15-19 are now using Tonsser,. The app will launch in England in Spring 2019 and is preparing a global roll out that will include the U.S. and beyond.
<< < Prev 1 2 3

4

5 6 7 8 9 10 Next > >>