The Forbes 2018 All-Star Eateries in New York


Publisher:

Forbes Real Time


Tuesday, 18 December 2018 06:00



Our stellar team of discerning tasters--Forbes' chief content officer, Randall Lane, Forbes contributor Richard Nalley and preeminent media maven Monie Begley, as well as brothers Bob, Kip and Tim--herewith unveil their 2018 All-Star list of where you can enjoy the city's most savory comestibles.
Metallic Must-Haves
Publisher:
E!
Tuesday, 18 December 2018 06:00
Here's the thing about holiday season fashion: It's anything but low key. But you're so busy flitting from soiree to soiree, you're hardly mad about it. The more festive,...

The TV Club, 2018
Publisher:
Stories from Slate
Tuesday, 18 December 2018 05:55
Oh, Sonia! Catch back up with Detroiters! It … just got canceled, so it's not much of a commitment! To Willa's question: It was the story of Sam (Sam Richardson, also of Veep) and Tim (Tim Robinson, long since ex- of Saturday Night Live). Tim's dad was a legendary Detroit ad man until he experienced a mental health crisis that required him to be institutionalized—and, trust, my description of this is a lot more sensitive than Tim's. Sam and Tim took over the business and tried not to run it into the ground. Robinson and Richardson, who also co-created the show, are both from the Detroit area, and their affection for the city shone in the locations they shot in, from penthouse restaurants to downtown pop-up parks to the Detroit Institute of Arts and even the tidy turn-of-the-20th-century two-story homes where Tim and Sam lived, next door to one another. But even as some episodes highlighted areas of the city that are vibrant and safe, others set up Sam and Tim to mock new arrivals taking advantage of Detroit's cheap real estate and rough reputation.
At the heart of it, though, was Sam and Tim's relationship, one of the sweetest male friendships on TV. Between their career partnership and their intertwined personal lives—Tim was married to Sam's sister—the two spent virtually all their time together and appeared to treasure every moment of it. They supported each other in all their worst ideas and impulses, defended one another against criticism from outsiders, and loved each other fiercely and without shame (or any of the winky gay panic that, for instance, has aged so poorly with Chandler and Joey on Friends). On top of being hilarious, the show's central duo was touchingly pure.
Pose is a very different kind of show. But it also takes great care in portraying unromantic love between characters who are bonded by choice. Blanca certainly could not be more of a mother to Damon (Ryan Jamaal Swain), Angel (Indya Moore), and Ricky (Dyllón Burnside) if she had raised them from childhood, but Pose shows us how the characters keep choosing each other as their circumstances change. Elektra's arc, and the peace she and Blanca made after all the betrayal and heartbreak they'd put each other through, was one of the most beautiful stories I watched on TV this year. Like Sonia, I can't dispute that it has saccharine tendencies. But given that this is one of two TV shows about and by trans people, I'm OK waiting until there are five or 10 before their characters start displaying major flaws. While I wait, I will—speaking of flawless—pass the time watching the series premiere cold open on a loop.
I guess that word brings us back to Willa's description of The Americans. I think it's more than fair to say that the series was flawed, that sluggish fifth season in particular. But like Todd, I waited eagerly for screeners during its final season this spring. I raptly devoured them. Months later, I can still mentally summon every beat of the sequence in which Elizabeth (Keri Russell) finally exhales with relief after a customs officer fails to recognize her in her glasses and wig—her very last disguise!—only to see Paige (Holly Taylor) on the platform as the train glides away. The Americans appropriated a lot of songs I loved, but "With or Without You" is now embossed with that moment forever.
And just as one era-defining spy drama was wrapping up, we got a new one in Killing Eve. Farewell, Cold War dread; hello, Hell World nihilism. Not only does Jodie Comer's Villanelle not have children of her own to agonize about between assassinations, she has open contempt for everyone else's who cross her path. She and Elizabeth do share a love of impeccably tailored designer clothing, though—and what would you give to see Eve Polastri and Stan Beeman comparing notes over beers? Someone should already be writing this sketch for the Golden Globes.
You know where else Villanelle would shine? The ring. Willa, talk to us about GLOW.
Tara
How We View Our Reality Shapes Our Politics. But Facts Still Matter.
Publisher:
Features – FiveThirtyEight
Tuesday, 18 December 2018 05:54
Earlier this year, National Journal politics editor Josh Kraushaar noted that President Trump had benefited politically from the perception that the economy was improving more than it had during the Obama administration. "We'll see if it lasts," he tweeted, "but in politics perception is reality."
The claim that perception is reality has long been a maxim in politics. That's particularly true as it relates to the economy. And with the 2020 presidential election ramping up, how Americans feel about the their financial well-being, and the country's, has come to the foreground again. But is perception really reality? Or does reality matter — regardless of how people feel?
Let's start with the economy, as the relationship between economic performance and electoral results is one of the better tested and understood findings in political science. Generally speaking, the relationship plays out something like this: When the economy is growing, the president's party tends to be rewarded with more votes. When there's a recession, the president's party tends to get tossed from office. Voter anger over the collapsing economy helped put Barack Obama in office with large Democratic congressional majorities in 2008, for example, and when the economic situation failed to improve during Obama's first two years, voters then turned against Democrats in 2010. There's also some evidence of this same dynamic playing out on the international stage, with the fortunes of ruling parties tied to economic performance.
That should all be pretty intuitive. Voters know whether they're doing well financially, and whether their situation has improved or worsened since a particular politician or party came to power. They'll hold those in government accountable — even if the president and his party can't truly do much to change the economy in the short term.
So, at first glance, reality matters.1
Of course, voters also see descriptions of economic performance on the news, and they hear stories from family and friends — their impression of the economy isn't shaped solely by their personal checkbooks. So what happens when there's a disconnect between the news they're seeing and reality? Can you convince people of something that isn't true?
Several groups of scholars have looked into this question. They've found that people's beliefs can trump reality in certain circumstances, but only modestly. Political scientist John Zaller found that, in some years, the "reported economy" seemed to do a better job of predicting election results than the "real economy," while in other years, the opposite was true. Generally, however, he found that the "real economy" — as measured by government economic growth statistics rather than people's beliefs — was more closely tied to election results.
But, again, there is some wiggle room. Take the 1992 election. At the time, everyone thought the economy was in shambles. The recession had technically ended in 1991, and there was some evidence that the economy was expanding again. But the media painted a picture of economic woe; political scientist Marc Hetherington found a strong disconnect between the media's negative reporting on the economy and how the economy was actually behaving. In fact, with the benefit of hindsight, we now know that the economy was growing by more than 3 percent annually by late 1992; roughly the same pace it was growing in 1996, when voters rewarded Bill Clinton with a second presidential term. Hetherington's research suggests that the relentlessly bad coverage of the economy affected voters' perceptions at the ballot box. George H.W. Bush substantially underperformed in his second presidential bid and became the first Republican since Herbert Hoover to be denied a second term.
Bush's loss probably wasn't all due to the economy (it's hard for a party to hold onto the White House for three terms, no less four, as Republicans were attempting in 1992), but at least that year, and at least partly, perception was reality.
Research has also found that perceptions can have other effects, short of totally overruling reality. A study of television coverage in the mid-20th century by political scientist B.K. Song, for example, showed that television news increased the importance of the national economy in people's presidential votes. News coverage made existing facts more important — reinforcing reality more than negating it. Dhavan Shah and others found similar effects in a series of American elections, demonstrating that media coverage provides voters with a basis for evaluating presidential candidates and economic conditions.
At least using the economy as a lens, the lesson is that perception is not reality — reality is reality — but perception is part of reality. To use a noneconomic example: Trump's consistent labeling of special counsel Robert Mueller's investigation as a "witch hunt" hasn't made it so — a majority of Americans think Mueller's investigation is "fair" — but it has seemed to convince Trump's base, the slice of the electorate predisposed to rally to Trump's version of events.
Indeed, that example is a better illustration of the relationship between perceptions and reality as far as politics is concerned than the blanket "perception is reality." Political scientist Brendan Nyhan's research shows the persistent influence that false perceptions can have on voters. People can come to believe something false if it is reinforced by their information networks, and efforts to dislodge false information through fact-checking or other means can sometimes cause a person to dig into their beliefs instead of change them. In the 2016 election, for instance, Nyhan found that the prevalence of fake news reports and Russian Twitter bots didn't alter people's views or the outcome of the election all that much. Rather, whatever people already believed largely prevailed.
This reflects the changing scope of political journalism. How Americans receive political news has changed dramatically in recent decades and has perhaps created more siloed news environments. The rise of cable and internet news sources has meant that viewers have far more choices in how they learn about the world (even while newspaper subscriptions plummet), and increasingly, people opt to receive highly specialized content tailored to their interests. More and more, we get our news from social media feeds that are molded to our own preferences, reinforcing our own world views. It's become very easy to learn about the world in a way that never requires us to question any of our previously held assumptions — we just hear our own views echoed back at us. In such an environment, the power of perception may be growing in importance.
Case in point: According to SurveyMonkey's Consumer Confidence Index, there's currently a vast gap between Democratic and Republican impressions of the economy — roughly 40 points on a 100-point scale. These different partisan impressions of the economy aren't new, but they are more pronounced. Reality still holds a lot of sway, but perhaps not quite as much as it used to.
Tue Dec 18 '18 Announcement from Cycling Power Meter at a Breakthrough Price
Publisher:
Indiegogo: Announcements
Tuesday, 18 December 2018 05:50
Hi everyone,

In the last few months, a lot of people have asked us when we're going to open our online shop. Well, we've got some good news! It's going live as we speak :) And also, because it's Christmas, we added a special discount to celebrate the beginning of pre-sales online. We're really happy about it.

Note: online pre-sales through our web shop will begin being shipped from March 2019. Crowdfunding backers are first in line.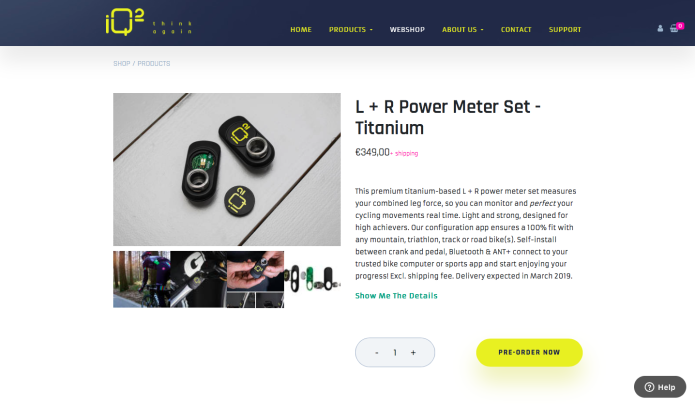 We're still tweaking, but it's up!

Preferred payment
Anyone who wasn't able to pre-order a power meter at a discount - due to no credit card - now has a week's opportunity to do so. We designed our shop to accept multiple payment methods and hope to accommodate more cyclists around the world.

New developments...
In recent weeks, we have concluded that using titanium adapters in production is proving to be a little bit challenging. There are two reasons for this: 1) titanium is literally tougher material to process, and therefore more expensive to manufacture and 2) there are only a few parties who actually know how to do this accurately. The good news? iQsquare is already working with these able partners. The bad news? When pre-sales turn into regular retail around Spring 2019, we run a giant risk of enormous waiting lists and higher costs. That would be the end of our promise to produce 'affordable' power meters --> not good.
So, we got together with a number of our manufacturing partners and discussed the issue at length.
Together we've decided to start producing two power meter versions from March 2019 onwards: 1) a premium version created with titanium and 2) a regular version created with stainless steel. We won't stop producing our titanium power meters and everyone on Kickstarter and Indiegogo will obviously receive theirs as ordered. They are much lighter, tougher and more valuable than their stainless steel counterpart. But… this way we can keep the price down for every cyclist who simply wants a working product once regular retail begins. Stainless steel power meters are therefore part of our new online shop and you can find them + prices here.

Compensation spacer pack
We also decided, after many requests, to start selling opposite-side compensation spacers for those who want to buy a L + R set and install them on different bikes. We'll let you know once they've been added to our online shop.
If you have friends or family who didn't have access to a credit card or weren't into crowdfunding, feel free to let them know they can get a Christmas discount on stainless steel power meters from Tuesday 18th until Tuesday 25th of December. These online orders will be shipped from March 2019 onwards. The discount isn't applicable to the titanium power meters.
Mid-January is still on for our first deliveries. None of the above is of influence on our current delivery timeline.

Kind regards,

Team iQsquare
Can Britain undo Brexit? Sure. Here's how.
Publisher:
The Week
Tuesday, 18 December 2018 05:50
British Prime Minister Theresa May's position on Brexit is clear: Damn the torpedoes, full speed ahead.
Unfortunately, it looks like the torpedoes are going to hit.
May refuses to revisit the question of whether Britain should leave the European Union. But there's increased chatter from her own party that she should reconsider. Parliament is nearing open revolt against her government. Why? Because the Brexit deal May hammered out likely can't pass, meaning the maximum-chaos scenario of a no-deal Brexit is more likely than ever.
The solution is obvious: May should swallow her pride and have a second referendum on Brexit.
May has held firm thus far to the apparently sacrosanct "no do-overs" tenet of democracy. "Let us not break faith with the British people by trying to stage another referendum," May said in a Monday statement reiterating her position. "Another vote which would do irreparable damage to the integrity of our politics, because it would say to millions who trusted in democracy, that our democracy does not deliver."
"Another vote ... would further divide our country at the very moment we should be working to unite it," she continued.
Would it really be so bad to hold a second referendum? Are the people not allowed to change their minds? If a second referendum yielded a vote against Brexit, that would be equally as legitimate as the original vote in favor of Brexit. And the key thing, either way, is that the decision would still rest with the people. This wouldn't be Britain's elitist ruling class overruling the people. It would be lawmakers asking the people for confirmation. This thing you said you want to do seems increasingly bad. Are you sure you want to go through with it?
Democracy should be an iterative learning process: The people vote in governing coalitions, get to experience the results, and then bring the lessons of that experience to their choices in the next election. Indeed, the relatively straightforward majority-rule of the British parliamentary system is advantageous over America's relatively veto point-ridden system. Majorities actually get to pursue their agendas, giving the voters something concrete to assess.
Voters asked for Brexit, and two years into the process it's become increasingly clear that a sensible divorce from the European Union just isn't in the cards, for good or ill. It also appears British voters are absorbing the implications of that. A study in September found that 2.6 million people who voted for Brexit have since changed their minds. That would be more than enough to flip the vote in favor of "Remain" should a second referendum occur.
No one likes the deal May hammered out with the EU, and the general sentiment is that it can't pass Parliament. May had to cancel a vote on the measure last week, and then faced a parliamentary vote of no confidence that would have dissolved her leadership. The vote failed, but Labour Party leader Jeremy Corbyn is already threatening another round. Meanwhile, reports are circulating that two of May's deputies and a number of other officials from her own Conservative Party are discussing a second referendum, though they've publicly distanced themselves from that story so far.
Earlier this month, European courts ruled that Britain could unilaterally cancel Brexit if it wants to. If May needs an extension of the March 29 deadline to actually get the referendum done, she could probably get it from the EU if the explicit purpose was to put Brexit up for a second vote.
Plus, canceling Brexit would give Britain a chance to address its actual problems.
The Brexit campaign was shot through with racism and nativism. But dig a bit and you'll see the complaints from the pro-Brexit camp were largely economic: an undersupply of housing and health care, stagnant wages, and insufficient jobs. Those are all real problems. It's just that the culprit isn't immigration; it's the British government's turn towards budget cuts and tight money in the aftermath of the 2008 crisis. Indeed, one of the things that's so politically poisonous about austerity is how it creates precisely the kind of economic scarcity that reactionary nativists then blame on immigrants.
Britain is bizarrely fortunate in that all this was an entirely self-inflicted wound. Unlike Greece or Italy, Britain still controls its own currency, and isn't subject to the monetary and fiscal straightjacket of the eurozone. If Britain wants to rebuild its working class and equitably share its economic prosperity again, it can just do so; it doesn't need to smash its way out of the EU common market first.
In fact, canceling Brexit could open up a broader conversation about the actual causes of Britain's doldrums. Under the best circumstances, Britain could become a demonstration project that rising living standards for all are perfectly compatible with large immigration flows.
All this said, there are risks to another Brexit referendum: A second vote could make it even less clear which side in the Brexit debate has a democratic mandate. "Suppose we had another referendum. Supposing the 'remain' side won it by 52 to 48, but it was on a lower turnout — entirely possible," Britain's International Trade Secretary Liam Fox explained to the BBC. "People like me will be immediately demanding it's best of three. Where does that end up?"
But Brexit is consuming British politics. It seems unlikely that the verdict in a second referendum, however it went, would come in with a sufficiently lower turnout to question the vote's legitimacy relative to the previous referendum.
Meanwhile, the potential payoff to taking that risk is the British people would get to exercise their democratic will, learn from their past experiences, and possibly save May and the British government from having to go through with the whole sordid mess.
Why is the government shutting down? The same reason it always does.
Publisher:
The Week
Tuesday, 18 December 2018 05:50
It is fitting somehow that President Trump's announcement that he would be "proud" to shut down parts of the federal government in the hope of securing funds for a border wall came just as a federal judge in Texas ruled the Affordable Care Act unconstitutional. Years ago Sen. Ted Cruz (R-Texas) argued that he had no choice but to force a shutdown after Barack Obama unsurprisingly refused to sign a budget that would have defunded his signature domestic policy.
For his efforts, Cruz was dismissed as a far-right crank, a poseur, a cheap grifter who raised millions of dollars with his stunt. He might well have been all of these things. But the logic of his argument — that Congress is well within its rights when it refuses to fund the president's pet projects — is sound enough. It is certainly convincing to Democratic leaders in Congress, who are saying exactly the same thing today. Nancy Pelosi and Chuck Schumer are doubly lucky because they find themselves squaring off against a president who, unlike Obama, is happy to present himself as the intransigent party.
The idea that a president should ultimately defer to Congress on prudential questions about spending is the sort of thing that sounds like wisdom if you happen to side with the opposition. It is also the attitude that ensures that government shutdowns are going to become a regular feature of American politics. As long as Congress holds the power of the purse there will be disagreements with the White House over budgets. These disagreements are frequently intractable.
There is, of course, another possibility, one that would prevent shutdowns from ever taking place. We could simply invest the executive with the power to approve funding for federal agencies if Congress does not present him with a budget. Perhaps as I write this, the White House counsel is discovering that this very power already lurks somewhere in the dense verbal jungles of Article II of the Constitution. It would certainly be in keeping with the seemingly irreversible trends towards the concentration of power in the executive branch and the transformation of the American system into a kind of Westminister-lite arrangement. Would this be such a bad thing?
How you answer this will very likely depend upon your opinion of the president who happens to be in power. Under President Obama, liberals were intoxicated by the idea of his exercising the same unilateral authority in foreign and domestic policy that they feared in the hands of his predecessor. An attempt by Trump to co-opt the power of the purse as he has with everything from immigration to treaty-making would be met by accusations of demagogy. If, on the other hand, his successor were to restore DACA — itself an excellent and humane example of the necessary usurpation of congressional power by the executive — or cancel construction of a border wall by fiat, it would be cheered by all the usual suspects and decried in the shrillest terms as "unconstitutional" by everyone else.
This partisan insistence upon covering disagreements about moral questions under the mantle of proceduralism is one of the most pervasive in American life. In the meantime, we accept the tedium of government shutdowns not despite the uncertainty that they bring but because of their familiarity. Time and again they produce the hated compromises we would all otherwise refuse. And they do it without forcing any of us to admit that we were ever wrong.
I suppose that in the long history of civilization there have been more savage rituals at the heart of national identities than our semi-annual insistence upon not paying for things that 96 percent of us believe we should pay for until the very last minute — or later. But there cannot have been many stranger ones.
<< < Prev 1 2

3

4 5 6 7 8 9 10 Next > >>