32 Minimalist Jewelry Pieces You Can Wear With Everything
Publisher:
Bustle
Saturday, 22 August 2020 06:30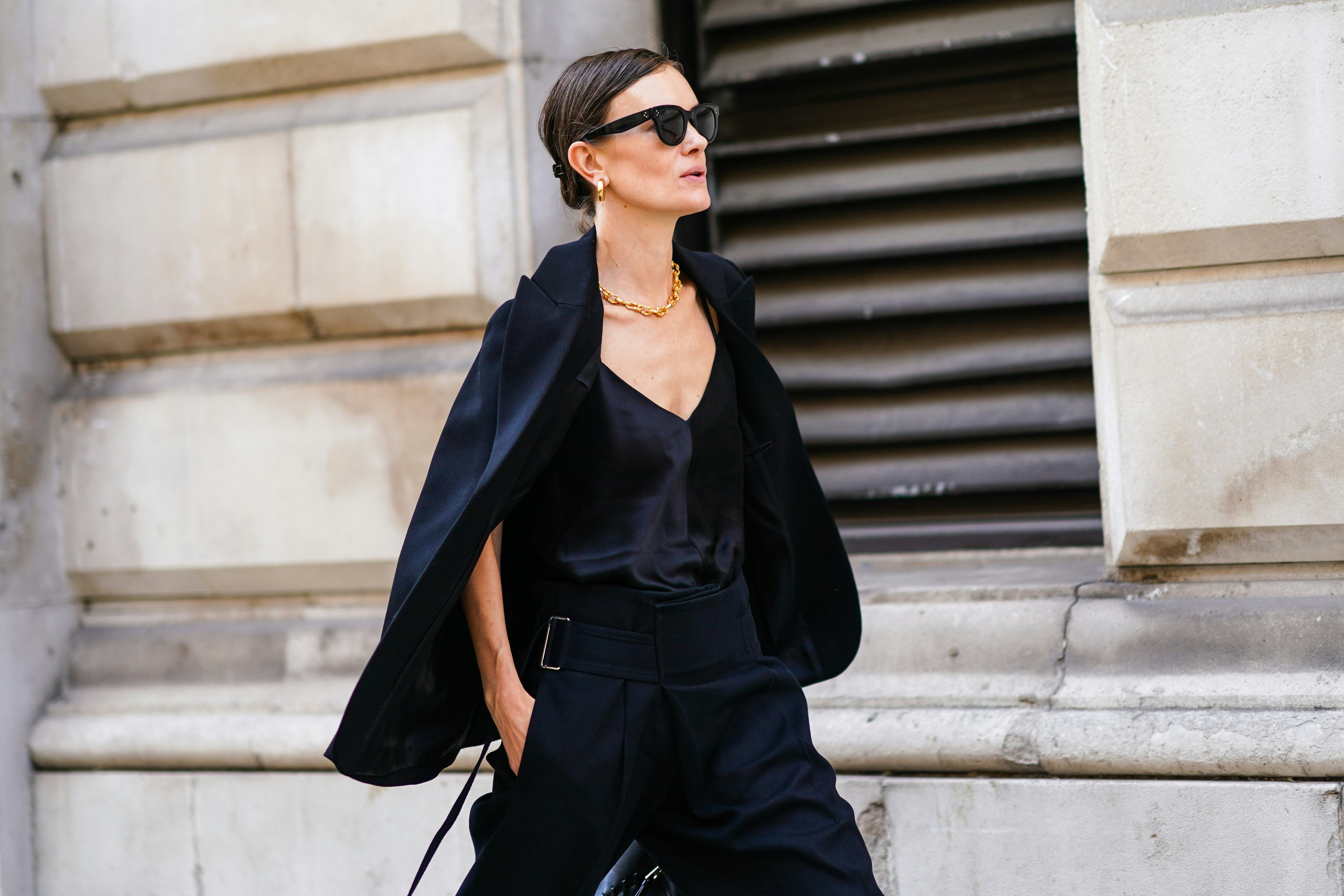 Bold, statement making jewelry is undoubtedly fun — but simple, pared-back jewelry (think dainty necklaces, tiny cuff earrings, and delicate rings) is eternally chic. And here's a fashion insider secret: Some of the best minimalist jewelry can be found right on Amazon, whether you prefer artisan-made pieces or luxe treasures from brands like gorjana and Kate Spade.
Ahead, you'll find over 30 pieces of unique, gorgeous jewelry made of various materials, in tons of different styles: bamboo earrings, delicate gold chains, dainty pearl bracelets, edgy cuffs, and so much more. Everything is available on Amazon for less than $60, though the majority of pieces ring up at less than $20. Each piece was chosen for its timeless simplicity, so you don't have to worry about retiring them next season when the trends of the moment change. Some of them are even customizable, with the option to select your own birthstone or zodiac sign.
Need even more proof that less is more? Then scroll on to shop some of the best minimalist jewelry that you can buy on Amazon. And if you still can't get enough of simple, classic accessories once you've scrolled through this edit, check out these minimalist jewelry brands that our friends at The Zoe Report love.
A Gold Mesh Bracelet That's Dripping In Understated Glamour
Interlocking chain links plated with a gleaming gold finish give this gold, mesh bracelet a boldly glamorous look. Made in Italy in the traditional Italian style, the timeless bracelet is made of premium sterling silver and plated in a thick layer of18-karat gold. "Lightweight, but looks very classy and more expensive than it is when on," one Amazon reviewer commented. "The plating is high-quality and is not yellow, but a true gold tone as pictured."
A Pair Of Tiny Cuff Earrings Encrusted With Cubic Zirconia Stones
A subtle way to add some sparkle to any casual outfit, these cubic zirconia huggies make for a cool alternative to classic diamond studs. Perfectly sized to gently hug your earlobes (hence the name), the tiny hoops are plated in your choice of 14-karat white, yellow, or rose gold. Amazon reviewers, for their part, are certainly impressed, giving the best-selling earrings more than 2,300 glowing five-star reviews thus far.
The Perfect Everyday Ring For Minimalists
A tiny, open circle in the front is the sole embellishment on this minimalist ring by Shashi. Made of 18-karat gold vermeil (in other words, genuine sterling silver plated in gold), the versatile ring will look good with literally everything.
A Pair Of Chunky (But Lightweight) Hoop Earrings
These chunky hoops only look heavy and cumbersome — but they're actually completely hollow, which makes them feel far lighter than you'd expect. They're plated in real 14-karat gold, with open ends and hypoallergenic stainless steel posts. The number-one best-selling hoop earrings on Amazon, fans say they "look so expensive," and are "surprisingly high-quality," giving them a near-perfect average rating of 4.6 stars.
Available colors: 3
Available styles/sizes: 2
A Gold, Coiled Ring From Luxe Jewelry Brand Gorjana
Shaped into an open-ended, asymmetrical coil, this delicate ring by gorjana proves how striking simplicity can be. Plated in 14-karat yellow gold, its hammered metal construction gives it understated textural interest. Its simple design looks effortlessly chic on its own, but it'll also look stunning paired with other gold or mixed-metal jewelry.
The Coolest Pair Of Bamboo Earrings
Not all minimalist jewelry is dainty and gold, and these eye-caching earrings from Shashi prove it. Made of polished bamboo with a natural, ridged texture, they have a drop-style design with gold-tone posts. They'll add a touch of tropical charm to practically any outfit, from flowy maxi dresses to a simple tee and jeans.
A Timeless Tennis Bracelet For Just $15
Classic tennis bracelets, like this one, are making a comeback among the fashion set this season — but honestly, the timeless jewelry staple never really went out of style. Flashy and understated all at once, the simple design is the epitome of minimalist elegance when worn on its own, or you can layer it with other bracelets for a more maximalist look. Despite its affordable price tag, reviewers can't stop raving about it, swearing its cubic zirconia "diamonds" might have even more sparkle than the real thing.
Available colors: 3
Available sizes: 3
A Pair Of Classic Gold Hoops — With A Twist
A texture-rich take on classic gold hoops, Shashi's Asha earrings are destined to be the MVPs in your everyday jewelry lineup. Plated in 18-karat gold with simple post closures, their chic pebbled design and 1.5-inch size make them easy to dress up, but their classic style will look great with casual outfits, too.
A Pair of Chic, Tortoiseshell Print Earrings
These acrylic drop earrings will make even the staunchest minimalists want to switch things up from classic gold or silver — because tortoiseshell is so timeless and neutral, it's a great way to add a pattern to your outfits without feeling over-the-top. That said, if you are looking for something a bit bolder, the earrings also come in six more colors, including turquoise and emerald green.
A Simple Gold Necklace That's Sold In 17 Unique Styles
This dainty pendant necklace will add a pretty, polished detail to virtually any outfit, whether you wear it on its own or layer it with other necklaces. The simple design consists of a small pendant in your choice of three shapes, attached to a thin, 17.5-inch chain with a 2-inch extender. Made of premium brass plated in 14-karat gold, reviewers report that it's tarnish-resistant and surprisingly durable, and won't irritate sensitive skin.
Available colors: 2
Available styles/sizes: 17
A Retro-Inspired Watch With A Digital Display
This Casio digital watch is more than just a practical timepiece. It's certainly that, too — after all, the classic wristwatch is water-resistant, durable, and super easy to read — but between its gleaming gold finish and its vintage-inspired look, it doubles as a versatile piece of jewelry, too.
A Set Of Three Mismatched Ear Cuffs To Fake Multiple Piercings
If you love the eclectic look of lots of earrings, but aren't necessarily ready to commit to lots of piercings, these funky Jules Smith ear cuffs are an excellent solution. Sold in a mismatched set of three cuffs, they're made of durable brass plated in silver. Designed to clip just about anywhere on your ears, they'll look equally great on their own or paired with other silver jewelry.
A Simple Bar Necklace Encrusted With Your Birthstone Of Choice
Almost all jewelry can say a lot about you, but this simple bar necklace takes things to the next level. Plated in polished 14-karat gold, each necklace is set with a tiny, twinkling Swarovski crystal to represent your birthstone. Whichever Swarovski "gem" your necklace has — diamond for April, emerald for May, sapphire for September — it'll add the perfect touch of sparkle to your everyday jewelry look.
Editor's note: If you prefer initials to birthstones, check out this necklace from the same brand.
These Tiny Huggies With Dangling Spikes
A unique spike detail adds a generous touch of edge to these otherwise classic hoop earrings. Small enough to be understated, yet eye-catching enough to make a statement, they're the perfect versatile earrings for everyday wear, especially if you have multiple piercings and can mix and match them with other small earrings. This pair is made of solid sterling silver plated in 14-karat yellow gold, but they also come in a white gold version.
A Modern Take On The Classic Chain Link Necklace
Think of this chain link necklace from Shashi as a modern, sophisticated twist on that classic Tiffany's chain you probably had (or at least, wished you had) in middle school. The gold-plated chain has the same choker-like fit and ring-and-toggle closure as the Tiffany's one, but paring down the chain links and skipping the heart-shaped tag made this updated version feel far more grown-up.
These Unique Drop Earrings Made Of Glass & Wood
Another chic option for those who prefer non-metal jewelry, these drop earrings are made with a mix of marbled glass and smooth, solid wood. Small details — the unique swirled colors of the beads; the slightly imperfect shape of the carved wooden hoops — give the earrings an artsy-chic, hand-crafted look that's sure to stand out in any jewelry collection.
The Perfect Locket For Jewelry Minimalists
If you love the idea of keeping a special photo close, but don't necessarily love that romantic, antique look, this necklace might be a better fit. Proof that there's beauty in simplicity, the smooth, round pendant is designed to look sleek — no heart shape, no intricate engraving, but still able to fit a small photo inside. Plated in gleaming 14-karat gold or rhodium, the locket itself measures a half an inch in diameter, and hangs from a dainty 24-inch chain.
These Unique, Dangling Earrings That Thread Through Your Ears
These dainty threader earrings make it easy to see the appeal of minimalist jewelry — their chain-link design is eye-catching and unique, without trying too hard or looking overly trendy. In short, you could wear them every day without getting bored, yet they'll make any outfit you put on instantly look 10 times cooler.
Available colors: 3
Available lengths: 2
A Dainty Bracelet Adorned With A Single Pearl
Pearls are having a major moment this season — but then again, it's hard to imagine this dainty pearl bracelet ever feeling dated. It'll look equally chic on its own or layered, and reviewers say it's so durable, you'll never have to take it off. Oh, and if you're looking for something similar, but aren't in love with this one, be sure to check out the other styles this piece comes in — there's so much variety, you're sure to fall in love with at least one option.
Available styles/sizes: 16
A Stylish Way To Show Off Your Zodiac Sign
When it comes to ways to express yourself without saying much, it's difficult to top this fun pendant necklace. Plated in gleaming 18-karat gold, each pendant is engraved with a unique design that signifies your zodiac sign, and it comes in other shapes and colors, too.
Available styles/sizes: 11
These Dainty Rings That You Can Stack Or Wear Separately
How gorgeous are these tri-colored, stackable eternity bands? Studded with a sparkling row of tiny cubic zirconia stones, the versatile rings offer a subtle touch of glamour even the starkest minimalists can appreciate, whether you wear one on its own or stack all three together.
Available colors: 3
Available sizes: 5-9
A Pair Of Small, Chunky Hoops With Vintage-Inspired Charm
A thick, rounded shape adds vintage-inspired charm to these versatile huggie earrings, which come plated in your choice of 14-karat white, yellow, or rose gold. Perfect for everyday wear, yet easy to dress up, they're a timeless staple every jewelry collection needs. "Beautiful, with rich color, and high-end design," one Amazon reviewer gushed. "They sit on the ear perfectly. You get a high-quality look for a very small fraction of the price."
A Simple Gold Chain For Your Ankle
A cool-girl accessory staple of '90s, anklets are back in a big way this summer. However, the classic Marina-style chain design keeps this one from looking overly trendy, whether you wear it on its own or layer it with other anklets. A fan-favorite on Amazon with more than 1,000 glowing reviews, it has a near-perfect average rating of 4.6 stars.
A Pair Of Elegant, Drop-Style Pearl Earrings
Featuring hand-picked, AAA-grade freshwater pearls attached to small, gold-plated, leverback hoops, these dainty drop earrings will pair perfectly with all your most classic outfits, especially little black dresses.
A Dainty Choker With Tiny Gold Beads
Nearly 1,000 Amazon reviewers have left glowing feedback for this dainty choker necklace, noting how it "never tarnishes" and that the 2-inch extender makes it "so perfect for layering." Plated in polished 14-karat gold, it's available in four chic variations, with accents such as lava beads or pearls.
These Cool, Safety Pin-Style Earrings
A pared-back shape gives these minimalist earrings a more polished look than most safety pin earrings, but they still embrace the trend's playful, edgy aesthetic. Made of tarnish-resistant brass with hypoallergenic surgical steel posts, they come plated in your choice of 18-karat rose or yellow gold.
Available colors: 2
Available styles/sizes: 4
A Simple Gold Bangle With A Hidden Message Engraved Inside
The details are often what makes Kate Spade pieces truly special — and this bangle is far from an exception. Sleek and simple, the 18-karat gold-plated bracelet's outer surface has a smooth finish, while the inner side is engraved with the message, "Heart of Gold." Whether you keep it for yourself or give it as a gift, it's sure to be cherished for years to come.
A Minimalist Take On This Year's Pearl Necklace Trend
A minimalist take on the pearl jewelry trend, this elegant pendant necklace is finished with a single, hand-picked, AAA-grade freshwater pearl. The 18-inch chain comes with a 2-inch extender, and is made of genuine sterling silver plated in 18-karat white, yellow, or rose gold. It's worth noting that while the pearl looks round in the picture, it's actually a slightly flattened, button-like shape.
A Cool Twist On Classic Hoop Earrings
A claspless design with open, downward-facing ends adds a cool, modern twist to these otherwise classic hoop earrings. Available in your choice of sterling silver, rose gold, or yellow gold plating, these come in several chic options when it comes to size and shape — the only hard part will be narrowing down your favorite pair.
Available colors: 3
Available styles/sizes: 3
A Dainty Necklace That Makes It Easy To Nail The Layered Look
Nothing's more classic than a simple cross necklace. Whether you're religious or simply love the look, you can't go wrong with this one, which is designed to look like a two layered chain. Love the layered look, but not sold on the cross pendant? Not to worry — this best-selling piece comes in several other styles, ranging from simple hearts to a glittering, jewel-encrusted evil eye.
The Perfect Dangly Earrings For Everyday Wear
These drop earrings add a touch of industrial edge to the classic minimalist aesthetic. Consisting of small hoops with leverback closures holding up sleek vertical bars, they're made of genuine sterling silver and plated in gleaming rhodium to give them extra shine. "I'm a jewelry designer and consultant, so I'm picky about my jewelry," one reviewer shared. "These earrings are designed really well and I'm very happy with them. Plus, they're perfect for sensitive ears like mine."
A Daintier Take On The Classic Dog Tag Pendant
A duo of petite dog tags hang from this pendant necklace's bead-studded chain, giving the chic, dainty piece a subtly utilitarian touch. The necklace comes plated in your choice of rhodium or 18-karat rose or yellow gold. Measuring 21 inches with a 2-inch extender, it's the perfect length for layering with other necklaces.
Small-time scams are dissolving America from the inside
Publisher:
The Week
Saturday, 22 August 2020 06:30
Few were surprised when the "We Build the Wall" crowdfunding effort, where rank and file conservatives shelled out to build a tiny section of the big, beautiful border wall, turned out to be a gigantic scam, according to a recent federal indictment. It was only slightly more surprising that Steve Bannon, President Trump's former chief strategist, was a central part of the grift. He was arrested by federal marshals last week, and faces charges of money laundering conspiracy and wire fraud conspiracy. Hilariously, it seems one of the alleged conspirators, Brian Kolfage, spent some of the ill-gotten proceeds on a boat called the "Warfighter."
Folks, this really happened. pic.twitter.com/EviEJCGvs7

— John Whitehouse (@existentialfish) August 21, 2020
But this scheme is one small wave in an ocean of fraud. Half of conservative politics now — particularly the infestation of conspiratorial insanity that is rapidly devouring the Republican Party — runs on this kind of small-bore grifting. Look behind the latest bug-eyed theories about Democrats being space lizard cannibals or coronavirus vaccines being a secret plot to brainwash citizens, and odds are you will find some kook hawking snake oil remedies to eagerly receptive rubes. It follows that a stringent crackdown on petty scams and quack medicine would go some distance towards cleansing American politics of madness.
Probably the most disturbing conspiracy theory on the right at the moment is QAnon, which has quickly taken over most of the conservative base and is making rapid inroads among Republican elected officials. Among a slew of utterly crack-brained beliefs, QAnon holds that the world is run by a cabal of Satanic pedophiles, who somehow started the coronavirus pandemic. (Trump, of course, has played footsie with the movement.) Believers and Q-curious candidates have won multiple congressional primaries, while followers have committed many violent crimes.
QAnon is rooted in cryptic online posts by a purported government employee that are then interpreted by an ersatz cult priesthood of D-list online media celebrities. As Brandy Zadrozny and Ben Collins write at NBC News, these livestreamers and YouTubers pushed the Q narrative to a broader audience, with the semi-deliberate intention of getting attention and money for themselves through Patreon, merchandise sales, and direct donations (indeed, one of them may in fact be the author of Q). The strategy "proved to be the key to QAnon's spread and the originators' financial gain." Lately, QAnon loonies have barged into anti-sex trafficking and crunchy wellness online spaces, turning them towards Trump, soliciting donations, and hawking quack remedies and other merch. A huge set of #SavetheChildren rallies planned to take place soon nationwide are similarly a thinly-disguised veneer covering QAnon maniacs.
In this they are following a long tradition of other right-wing grifters. Alex Jones of InfoWars has long sold supplements with ridiculous lies about how they will make you stronger, healthier, and smarter (or cure COVID-19). BuzzFeed News sent some of them to a testing lab and found they were just vitamins and other ordinary supplements sold at a preposterous markup. As Alex Pareene and Rick Perlstein have written, this kind of thing has been a foundational part of conservative politics for decades.
By the same token, basically all of Trump's business empire — the fraudulent Trump University, the grift Trump Foundation, and various other Trump-branded trash — has been a similar type of scam after he squandered his father's inheritance (on which he dodged taxes in a likely illegal fashion) on real estate and casino failures. Of course as president he is constantly violating the Constitution by nickel-and-diming the government to use his own facilities.
It thus makes perfect sense that the very top of conservative politics, the Trump re-election campaign, has apparently been infested with fraud and self-dealing. Trump's previous campaign manager, Brad Parscale, recently departed the effort under suspicion that he had directed millions of dollars into his and his friends' pockets. As Josh Marshall writes at Talking Points Memo, "Criminality and fraud come like breathing to the president and seemingly everyone around him. Like recognizes like. Thieves and cons sense a fellow traveler." No wonder the campaign has crossed the billion dollar mark in its spending faster than any in history.
A great deal of this kind of behavior either is already illegal or should be. Soliciting donations for a baldly fraudulent purpose is a species of theft, but laws and regulations on scam foundations, nonprofits, and philanthropy — for instance, the common practice whereby an organization solicits donations for some charitable or political purpose, but spends most of its money on its own staff — could be tightened up without running afoul of the Constitution. Elsewhere, the state could place requirements on social media platforms so they do not amplify dangerous craziness, or simply ban them from using any kind of algorithm to control people's attention in the first place.
Similarly, regulations around health supplements are ridiculously lax. This is thanks to the deregulation craze of the 1990s, and especially Senator Orrin Hatch (R-Utah), who was deep in the pocket of the supplement industry. He pushed through the Dietary Supplement Health and Education Act of 1994, which opened the floodgates of snake oil. It's a political and public health issue — tens of thousands of people have gotten severely ill and some have died from taking quack remedies that never should have been allowed to be sold. Keeping our food and medicine pure is one of the foundational tasks of any state.
And that in turn folds into a general problem: even when this kind of stuff is illegal (as it often is), the federal government has been incredibly reluctant to prosecute white-collar crime of any sort. Is it any surprise that the same government is now crawling with fraudsters and con artists?
Now, it is not only grifting that fuels the epidemic of conspiracy theorizing on the far right. In the case of QAnon, it is plainly being driven by the deep need to square the right's hero-worship of Trump with his dismally incompetent performance. It can't be that our big, beautiful president just horrendously botched the response to the pandemic, it must be the dread Deep State foiling him at every turn.
But cracking down on small-time swindles and frauds would help, potentially quite a lot. If we don't want a future President Brian Kolfage invading Liechtenstein to root out an imaginary conspiracy of Spaghetti-Os devil monsters, we should start attacking a foundation of right-wing conspiratorial extremism: fraud.
Sat Aug 22 '20 Announcement from Pridosaurs Enamel Pins
Publisher:
Indiegogo: Announcements
Saturday, 22 August 2020 06:29
Hi friends, just a quick update for those who backed the campaign after June or made orders on the pridosaurs website, who have been waiting for us to restock the sold out designs.

We've now (finally!) received that shipment of pins and have extra hands standing by to send out any outstanding orders this week.



Trump's convention to ignite base with fireworks and culture war


Publisher:

Raw Story


Saturday, 22 August 2020 06:28



Launching political grenades — and real fireworks — President Donald Trump's Republican party will use next week's convention to ignite its base ahead of the most divisive US election in decades. As the Democrats demonstrated in their on-screen-only convention to nominate Joe Biden this week, the 2020 presidential election is already deep in untested territory. […]
<< < Prev

11

12 13 14 15 16 17 18 19 20 Next > >>