Hurricane Maria Latest Path: Will Maria Hit the East Coast?
Source:
Heavy.com
Wednesday, 20 September 2017 19:08
Scenes are coming in of flash flooding and damage from Hurricane Maria in Puerto Rico, and a lot of people on the American coast are wondering about the storm's next stage. Will Hurricane Maria strike the East Coast of the United States?
Models, spaghetti and otherwise, provide a sense of the hurricane's next path. They show the storm skirting the East Coast (and missing Florida completely), but provide hope that it will stay at sea and not make a direct hit on any east coast state. As the storm has continued to shift, the northeast coastline has fallen more in potential peril than areas like Georgia or South Carolina (although this is by no means certain, either). States like New Jersey are keeping a close watch on Maria, but there's hope that Maria will go the way of Jose and stay out to sea.
As you can see from the September 20 evening forecast cone from the National Hurricane Center, no coastal states are currently in the cone of uncertainty.
The bottom line: It's impossible to know for sure, Florida and the southeast coastline are likely not in much peril, recent models show hope for the entire U.S. coast, but the northeast should watch the path most closely at the moment.
Although it operated in the shadow of monstrous Hurricane Irma for a while, Maria's wrath is now being felt throughout the Caribbean. The entire island of Puerto Rico was without power as a result of Maria on September 20.
"The long-range cone of uncertainty shows the…storm taking a northern turn sooner than initially forecast. That should send it out to sea, rather than an impact on the U.S. coastline, say forecasters," Fortune Magazine reports.
Maria is, so far, considered to be taking a path somewhat akin to Jose, which didn't cause much of a problem on the east coast as it never ended up making a direct landfall.
According to the News Observer, when it comes to North Carolina, models for the storm suggest "it might not make a direct hit on North Carolina next week, but the storm's effects almost certainly will be felt nonetheless." The newspaper noted, "The model the National Hurricane Center posted on Wednesday leaves Maria south and east of North Carolina at the start of next week."
The storm's effects are already being felt on the east coast, though. According to USA Today, the "storm will continue to cause rough surf and rip currents along the North Carolina shore north of Cape Hatteras for the rest of the week."
You can see the forecast for some key cities on the east coast below. None of them is under a hurricane watch or warning:
Jersey City.
New York City.
Raleigh.
Savannah.
Boston.
Philadelphia.
Track Maria through the National Weather Service here.
On September 20, the National Hurricane Center released this update on Maria:
"An Air Force Reserve reconnaissance aircraft found that Maria's center moved off the northwestern coast of Puerto Rico just before 1800 UTC, but the hurricane appears to have taken quite a hit from the high mountains of the island. The aircraft measured a maximum flight-level wind of 106 kt to the east of the center and SFMR surface winds as high as 91 kt. The initial intensity is therefore set to 95 kt. The central pressure has also risen considerably, and the latest report from the airplane is 957 mb.
Maria may have taken a temporary jog west-northwestward across Puerto Rico, likely due to topographic effects, but the longer-term motion remains northwestward, or 305/10 kt. Maria should maintain a northwestward motion for the next 36 hours while it remains on the southwestern periphery of a mid-level high over the western
Atlantic. After 36 hours, Maria is expected to turn northward between the high and a broad trough extending from Tropical Storm Jose southwestward into the Gulf of Mexico. The updated track guidance remains in excellent agreement on this scenario, and the overall guidance envelope has shifted a bit eastward on this cycle.
The new NHC forecast is therefore nudged a little east of the previous forecast toward the various consensus aids.
It may take some time for Maria's structure to reorganize itself now that it is back over water. Although the intensity models are not all that enthusiastic about strengthening, the environment looks conducive for intensification, and the NHC forecast lies at the upper bound of the guidance, closest to the HWRF solution. It
would not be surprising, however, if Maria eventually strengthens more than shown here. Some weakening is expected by days 4 and 5 due to increased shear, as well as Maria possibly moving over the cold wake of Tropical Storm Jose to the east of the Carolinas.
We would like to thank the crew of the latest Air Force Reserve mission for their incredible service today. After beginning their mission this morning before the center first moved onshore, the crew went above and beyond, returning to Curacao to refuel, and then heading back to Puerto Rico to catch Maria's center when it first moved back off the coast. The data collected by the crew was incredibly important for us to analyze Maria's intensity and structure after moving across the island, and we are grateful for their effort.
KEY MESSAGES:
1. Maria's core is moving away from the northwestern coast of Puerto Rico, and strong winds and storm surge flooding should subside through early Thursday. However, heavy rainfall is expected to continue, and catastrophic flash flooding is occurring on the island, especially in areas of mountainous terrain. Everyone in Puerto Rico should continue to follow advice from local officials to avoid these life-threatening flooding conditions.
2. A Hurricane Warning is in effect for the northern coast of the Dominican Republic, the Turks and Caicos Islands, and the southeastern Bahamas, where Maria is expected to bring dangerous wind, storm surge, and heavy rainfall."
Here's a round up of other online trackers you can use to monitor the hurricane's path.
Weaponized sound is nothing new, but the attacks in Cuba are a mystery
Source:
Mashable
Wednesday, 20 September 2017 19:07
The story goes that, during the Battle of Jericho, God directed seven priests to blast notes from their ram's horns as they circled the city, and the sound from those horns wobbled the walls of Jericho until they crumbled. 

This, almost certainly, did not happen. But sound has long been used in war and other battles to, as one expert put it, "influence, manipulate and torture."

Strange reports of weaponized sound in Cuba, however, have experts baffled. According to the Associated Press, U.S. and Canadian diplomats have suffered hearing loss, ringing in the ears, concussion, nosebleeds, and more after hearing what they often describe as targeted bursts of sound in their homes and at one hotel. The U.S. victim count is now up to 21. Read more...

More about Tech, Tech, and Politics
Here's Your Chance To Spend A Night In The Cinderella Castle Suite At WDW And Help Give Kids The World
Source:
inquisitr
Wednesday, 20 September 2017 19:06
For all of those that know there is a suite high up in Cinderella Castle at Magic Kingdom, they have longed for the opportunity to spend a night in it. Anyone who is just learning about this enchanted room is now in the same boat as they also want to know how they can have a magical sleepover. Well, that room is pretty much off limits to everyone the majority of the time, but there is now a chance for you win a once-in-a-lifetime opportunity and also help a great cause.
When visiting Walt Disney World, there are numerous different resorts with multiple themes, room sizes, and so much more. If you pay the right price, you can pretty much stay anywhere you'd like and get the type of vacation experience you've always dreamed of having.
That is…except for the Cinderella Castle Suite.
Click here to continue and read more...
Wed Sep 20 '17 Announcement from Laura Campisi Double Mirror
Source:
Indiegogo: Announcements
Wednesday, 20 September 2017 19:05
Ciao!
I am writing from my crib in the Bronx and I hope this finds you all well.
I have great news to share!! The Double Mirror Thank You Cards and the Pax Box Postcards have been printed and they are on their way! Whether I'll be bale to hand them to you along with a copy of the album or they'll arrive via mail, I can't wait for each one of you to receive their copy!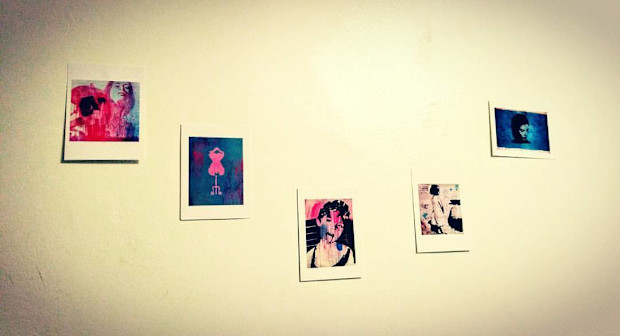 I would love to hear from you after you listen, and learn what you think of the 13 tracks that I hope will take you to a magic journey...
In the meantime, enjoy the first official video of Double Mirror, created by my dear brother Simone on the closing track of the album, Morningside:
Enjoy the journey or, as we say in Italy, BUON ASCOLTO! ;)
Laura
<< < Prev 1

2

3 4 5 6 7 8 9 10 Next > >>