Prodded by Trump, FBI to look into complaint about its 2016 tactics
Source:
AOL
Tuesday, 22 May 2018 05:11
WASHINGTON (Reuters) - The Justice Department agreed on Monday to investigate "any irregularities" in FBI tactics related to President Donald Trump's 2016 campaign after Trump questioned whether an FBI informant had been planted into his political organization.
Tue May 22 '18 Announcement from KEFIRKO CHEESE MAKER
Source:
Indiegogo: Announcements
Tuesday, 22 May 2018 05:09
Hi friends,
it's a way since we were posting an update. These past two months we were very busy trying to ship out the Kickstarter pre-orders as soon as possible.
At this moment we are going through each order from you. You might notice, the orders are now LOCKED. We made this because we downloaded the data and to prevent loosing any changes. If you happen to change the shipping address, just send us a email to info@borgla.com.
Lastly, some insight on what's going on in the warehouse and photos from our backers that already received their products.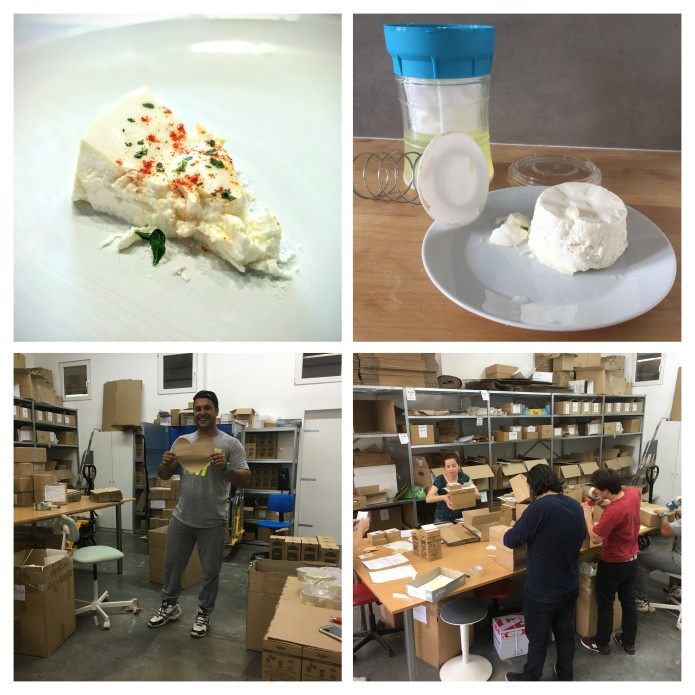 The finish line is near, you will receive the products very soon.
Best regards,
Kefirko team
P.S. All the backers that haven't received the survey link, don't worry, you will get one once we analyse your pledge.
Tue May 22 '18 Announcement from PlusMe: TWC device for Autism Spectrum Disorders
Source:
Indiegogo: Announcements
Tuesday, 22 May 2018 05:07
Dear all,
we want to tell you that we started the experimentation of +me device with children with ASD and other Pervasive Developmental Disorders. The experiment is taking place at the Dpt. of Human Neuroscience, Section of Child and Adolescent Neuropsichiatry, University of Rome "La Sapienza". At the moment we examined 3 children with ASD and 6 with Speech Disorder; we plan to reach 10 participants with ASD within June.
Please follow the experiment results on the dedicated page on ResearchGate.
Thanks to all,
the PlusMe team
Nothing Certain In Search For 'Regulatory Certainty' At EPA
Source:
NPR
Tuesday, 22 May 2018 05:00
Environmental Protection Agency chief Scott Pruitt often cites the need for "regulatory certainty." But even some supporters of his sweeping rollbacks say they're creating the opposite.
(Image credit: Andrew Harnik/AP)
Routine DNA Screening Moves Into Primary Care
Source:
NPR
Tuesday, 22 May 2018 05:00
The Pennsylvania-based health care chain Geisinger Health System plans to soon offer DNA sequencing as part of routine care for all patients. Is there a downside?
(Image credit: GIPhotoStock/Cultura RF/Getty Images)
Trump Is Right About NAFTA, But That Doesn't Make Him Pro-Worker
Source:
The American Prospect
Tuesday, 22 May 2018 05:00
This article originally appeared at The Huffington Post. Subscribe here. 
As a deadline for NAFTA negotiations set by House Speaker Paul Ryan came and went on May 17, Treasury Secretary Steve Mnuchin now says that the negotiations are still alive and might even extend into next year.
Of course, President Donald Trump has undercut his senior aides before, and there is no telling what he might impulsively do if the mood strikes him. Previously, Trump had insisted that he would withdraw the U.S. from the North American Free Trade Agreement if negotiations were not concluded and approved by this session of Congress.
By delaying NAFTA talks until after the November election, however, the GOP could avoid an awkward situation in which most of the NAFTA revisions demanded by Trump's negotiators are supported by labor and the Democrats and opposed by big business-friendly Republicans. It is another case of Trump trying to steal the liberals' clothes with a working-class base that once reliably supported Democrats but now is more inclined to back Trump.
One key demand sought by Trump's negotiators would kill the NAFTA provision that allows corporations to challenge ordinary domestic regulations in special tribunals as improper restraints of trade. Another would add more accurate rules of origin so that inputs substantially made in China are not credited as produced in North America.
A third would increase labor rights in Mexico. It would even require that a large share of NAFTA production be made by workers earning at least $16 an hour, to reduce job flight to Mexico.
This provision, among others, proved too much for Mexico to swallow, with that country facing its own presidential election on July 1, but it is emblematic of how the Trump administration has shifted the conversation on trade. 
It's unlikely that Trump studied NAFTA in any detail. The architect of this proposed deal is his chief trade negotiator, Robert Lighthizer. But Trump, for all his weirdness, has a keen nose for winning political symbolism.
Trump's earlier threat to withdraw from NAFTA gave his negotiators the leverage to win surprising tentative concessions from Canada and Mexico. If no deal is reached, a NAFTA pullout may yet be a different sort of win for Trump with his nationalist base.
Otherwise, Trump's brand of nationalism is mostly economically irrational and politically demagogic. His other trade policies are all over the map. 
He has wildly oscillated between getting tough with China and proposing sweetheart deals that serve his own business interests.
His tariff orders on steel and aluminum are scattershot rather than targeted at nations that illegally subsidize their own exports. He has needlessly started a trade war with Europe as fallout from his withdrawal from the Iran nuclear deal. 
But in this case, the proposed changes to NAFTA are good policy. It's nonsensical for a North American free trade area to allow tariff-free inputs from China, which is not a party to the agreement. It is equally wrong to allow extralegal tribunals for corporations to do end-runs around national regulation. It is also reasonable to put limits on jobs fleeing to a low-wage nation, Mexico, in which workers have no effective labor rights.
The existing elements of NAFTA are not "free trade." They amount to a special-interest deal by and for multinational corporations, which undermines the ability of the U.S. to broker a balanced form of decent capitalism.
Yet the political center—Democratic presidents Barack Obama and Bill Clinton, as well as Republicans George H.W. Bush, George W. Bush, and Ronald Reagan—promoted global trade deals that plainly served corporations at the expense of workers. That embrace gave a huge opening to Trump.
Other elements of Trump's pro-worker stance are largely phony. His tax reform serves mainly corporations. His regulatory changes reduce protections for workers and consumers. His proposal to charge foreign health systems more for drugs would boost pharmaceutical profits and not reduce prices for American consumers.
But in a climate of resentment against weakened job opportunity, compounded by a mashup of identity conflicts, a little economic nationalism goes a long way. That Trump is able to exploit these grievances is substantially the fault of the political center for embracing a Davos version of globalism that not only undermines living standards for millions of Americans, but looks down on them as losers. If NAFTA becomes a winner for Trump, the corporate globalists have themselves to blame.
With the exception of NAFTA, the brand of economic nationalism espoused by onetime Trump adviser Steve Bannon―and by Trump's own rhetoric―has more to do with demonizing foreigners than truly benefiting American workers. Yet there is a positive, progressive version of economic nationalism waiting in the wings. It would revise trade deals that sell out American workers, repeal Trump's tax cut and put the money instead in large-scale infrastructure and green-transition investments.
That could produce millions of good jobs and new made-in-America technologies and industries, as well as renewed credibility for an activist government. It would be salutary to have a real debate, one that progressives could win, about what could truly Make America Great Again.
Trump's Curious Coalition
Source:
The American Prospect
Tuesday, 22 May 2018 05:00
Trump's strategy for keeping power is to build up his coalition of America's white working class and the nation's ownership class.
It's a curious coalition, to say the least. But if Democrats don't respond to it, it could protect Trump from impeachment and even re-elect him. It just might create a permanent Republican majority around an axis of white resentment and great wealth.
Two decades ago, Democrats and Republicans competed over the middle class. They battled over soccer moms and suburban "swing" voters. 
Since then the middle class has shrunk while the working class has grown, and vast wealth has been accumulated by a comparative few who now own a large portion of America. Some of their wealth has taken over American politics. 
Enter Trump.
Counties whose voters shifted from Obama to Trump in 2016 had lost economic ground to the rest of America, even more than did solidly-Republican counties. Trump is counting on the unwavering support of these mostly white working class voters.
Meanwhile, much of the ownership class has come over to Trump. He's counting on it to bankroll Republican politicians who are loyal to him.
Since becoming president, Trump has sought to reward both sides of this coalition—tossing boatloads of money to the ownership class, and red meat to the white working class. 
One boatload is the corporate and individual tax cut, of which America's richest 1 percent will take home an estimated 82 percent by 2027, according to the Tax Policy Center. 
Another boatload is coming from government itself, which Trump has filled with lobbyists who are letting large corporations do whatever they want—using public lands, polluting, defrauding consumers and investors, even employing children—in order to push profits even higher. 
Trump's red meat for the white working class is initiatives and tirades against unauthorized immigrants and foreign traders—as if they're responsible for the working class's lost ground—and other symbolic gestures of economic populism, along with episodic racist outbursts, and support for guns and evangelicals. 
Every time Trump sends more money to the wealthy he sends more red meat to his base. 
Weeks ago, after announcing he'd seek another big tax cut before the midterm elections—"phase two," as he termed it—he threatened China with a trade war; arranged another crackdown on unauthorized immigrants, including a carefully-choreographed plan to break up families at the border and attack sanctuary cities; and vowed to go after pharmaceutical companies.
Yet red meat goes only so far. At some point, you'd think, the white working class would realize that the only real beneficiaries of the Trump coalition are the super-rich. 
Trump's clampdown on foreign imports and immigrants won't raise working-class wages. It's more likely to erode their paychecks because it will cause consumer prices to rise. Yet it leaves American multinational corporations unscathed. They don't make their money off trade and don't rely on immigrants; they fabricate and sell from all over the world. If a trade war with China breaks out, they'll merely shift their sourcing to other nations.
His tax cut put a few dollars in working-class pockets but is already requiring cuts in services they rely on, and will demand more. 
His plan to bring down drug prices won't make drugs any cheaper. Instead, it's a big win for drug companies whose prices won't be controlled and won't have to negotiate with Medicare and Medicaid. 
Trump doesn't want his base to know that the only way they can permanently become better off is by reining in the ownership class.
He doesn't want them to recall that the ownership class is largely responsible for hollowing out the middle class. For decades the captains of American industry, backed by the nation's biggest investors, have squeezed payrolls by outsourcing abroad, cutting or eliminating job benefits, busting unions, and shifting to part-time and contract work. 
He'd rather they didn't see that corporate profits—flowing into higher executive pay and higher share prices—have constituted a steadily larger portion of economy, while wages have been a steadily lower portion. Most economic gains have gone to the top. We have had socialism for the rich and harsher capitalism for everyone else.  
If Democrats were smart they would expose all this—and commit themselves to reversing these trends by creating a multi-racial coalition of the poor, working class, and what's left of the middle.
Trump's curious coalition endures only because he's a clever salesman and conman. The only way it can possibly succeed at entrenching Trump is if Democrats say and do little or nothing. 
<< <

Prev

1

2 3 4 5 6 7 8 9 10 Next > >>