A QAnon Supporter Has Raised $140K To Prosecute Justin Trudeau For Something or Other
Publisher:
VICE
Friday, 10 July 2020 06:00
The group who marched on Ottawa's U.S. Embassy seemingly forgot Canada Day was a national holiday.
At the front of the group strode Norman Traversy with a red cache of documents in his hands. Inside this package, Traversy promised his followers, was evidence that would lead to the ousting of Canadian Prime Minister Justin Trudeau for a myriad of reasons including the SNC Lavalin scandal (real) and child trafficking (not real). To the people in the crowd, the older man in the cargo pants, a bucket hat, and floral shirt was a hero.
Traversy and company were hoping to meet personally with a U.S. embassy employee (anyone would do) at the embassy's door, but the thing is, American embassies close during the national holidays of the country they reside in. So instead of a big triumphant moment, Traversy—after leading the crowd of hundreds strong with a loud bellow of the QAnon conspiracy slogan, "where we go one, we go all"—was forced to performatively leave the documents in front of the building and return later to collect them.
Eventually, the documents would be emailed and faxed to their intended recipients. Despite the organizational snafu, Traversy and his crew declared their rally a victory. This was the latest act in Traversy's mission to take down Trudeau.
It's a mission he's raised over $140,000 for.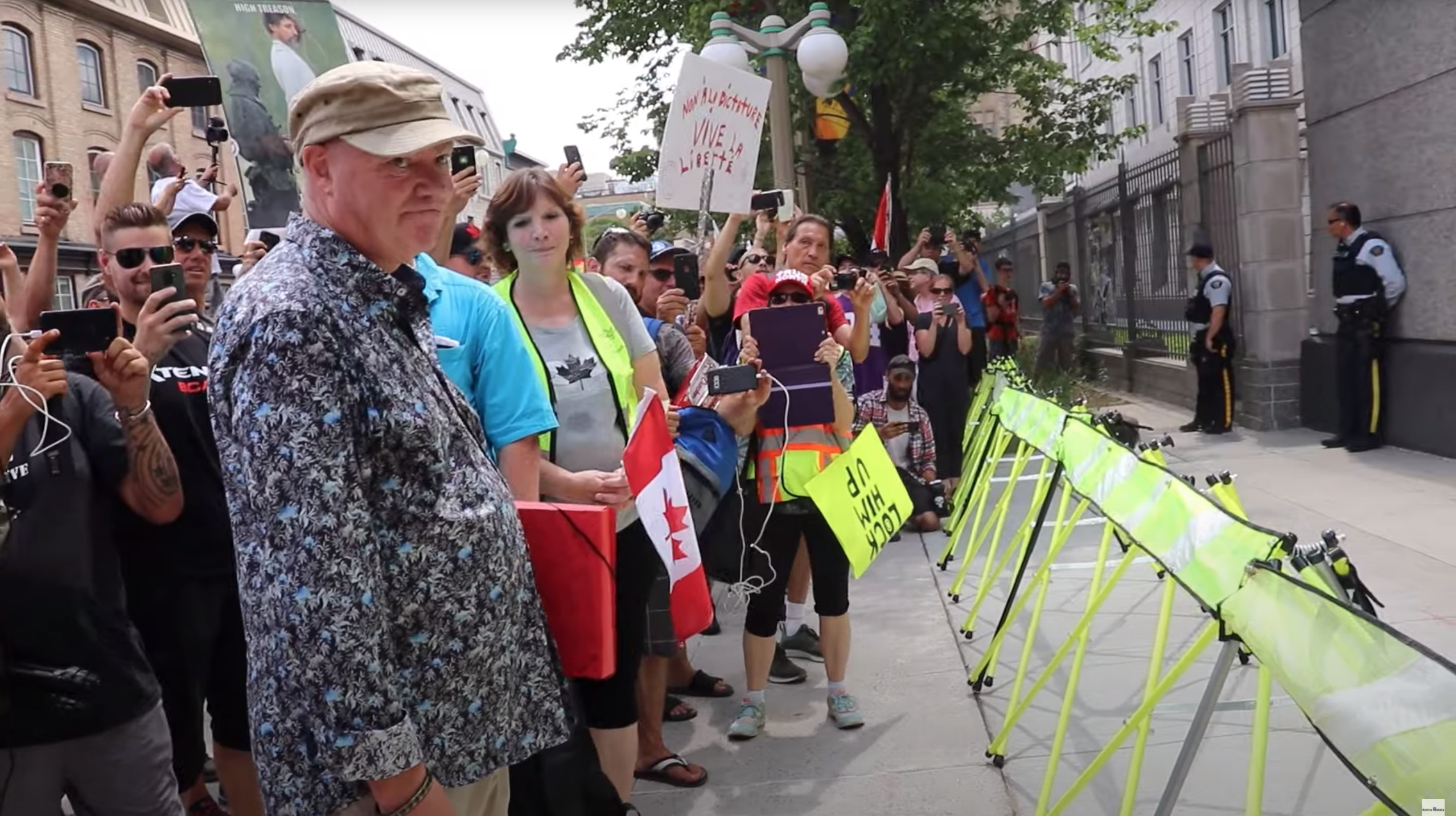 'Not much of a lawyer'
Through appearances on fringe YouTube channels and podcasts, and an anti-Trudeau message, Traversy has shown how it's possible to raise over $100,000 and become a central figure in the Canadian far-right in less than a year.
In several YouTube videos Traversy, who declined to speak to VICE News or answer emailed questions, is quick to say he's not much of a lawyer. Traversy is a retired Mississauga firefighter who made headlines after leaving the service for speaking out about how he was treated following a PTSD diagnosis. This mistreatment, he says, has led him to believe that Canada is corrupt inside and out. Travesy says his anger against the system focused on Trudeau shortly after he saw a video of the prime minister hugging Brenda Lucki, the RCMP commissioner, and giving her a kiss on the cheek.
"I thought 'what contempt that man has for that person and the office that she holds,'" says Traversy in a YouTube interview with one of his frequent collaborators "I thought if they won't deal with the SNC Lavalin situation, I will."
He says he began to read up on the law and came across private prosecution (a little-used legal method in which a citizen lays a charge instead of the Crown.) So, in September, he tried to charge Trudeau but has claimed multiple times the case was stayed in a pre-enquate (a hearing that decides if charges should be laid) in October for "lack of evidence." VICE contacted Ontario's Attorney General to confirm Traversy's claims who confirmed it was "the subject of a pre-enquete hearing" but couldn't provide more information. Since his private prosecution was allegedly stayed, Traversy said he's attempted to file a human rights complaint, go through the elections commissioner, and get a judicial review. He's now handed off his documents and research to the U.S. and Mexican embassies in the hopes that U.S. President Donald Trump or Andrés Obrador, the president of Mexico, will investigate and charge Trudeau because of the newly minted United States–Mexico–Canada Agreement.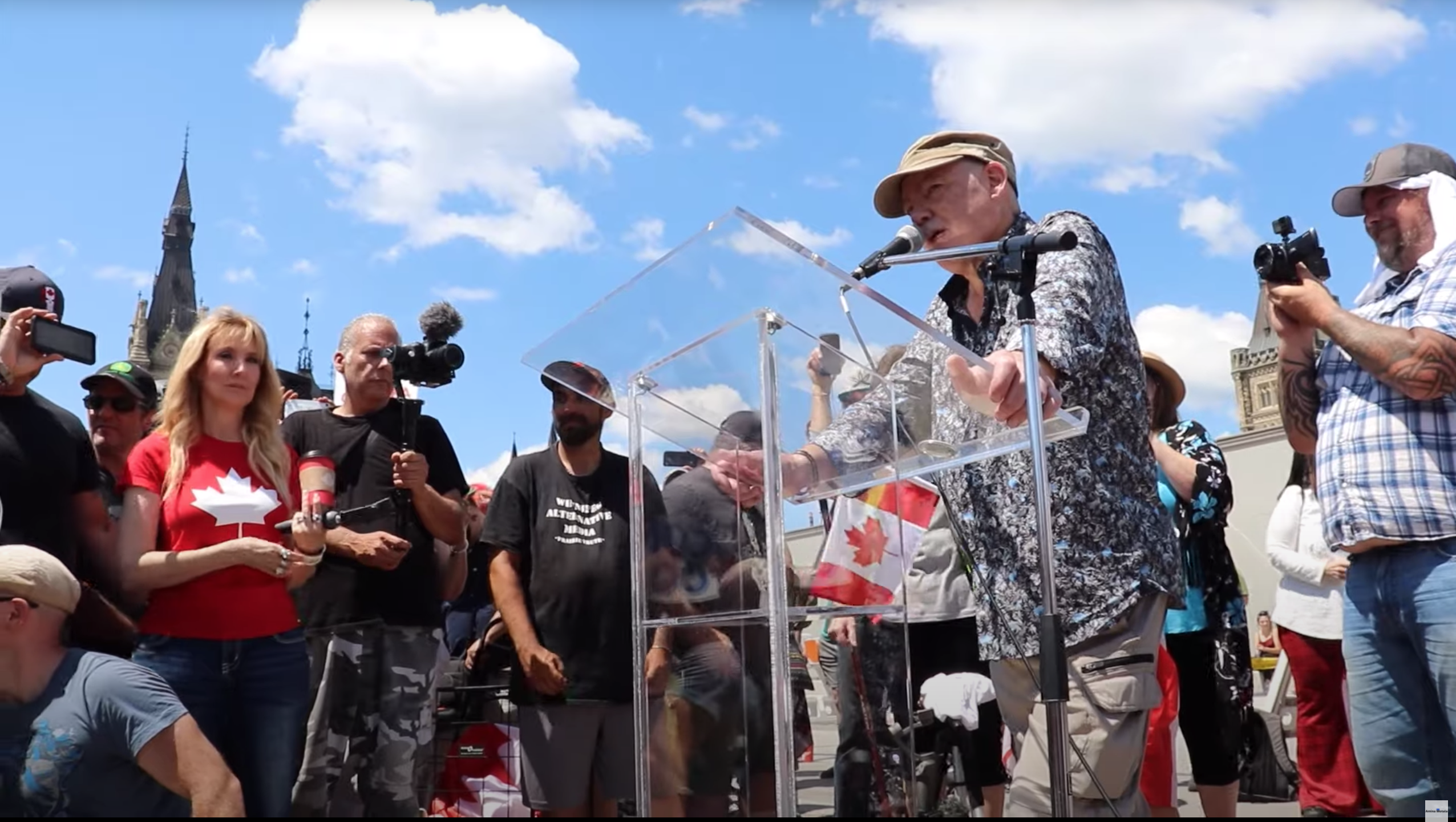 To aid his mission, Traversy started a GoFundMe for $400,000 last September. Since then he's raised over $139,740 from over 1,700 donations. The accompanying write up says all the money will go towards his "legal expenses." The amounts donated range widely from just $5 or $25 to $10,000. Despite the charges being stayed Traversy continues to rack in the donations. Many of those giving money leave anti-Trudeau notes.
"Justin Trudeau is a pedophile and a globalist serving an agenda for special interest groups that don't have humanity's best interests at hand," wrote a person who recently donated $420. A person who donated $500 less than a month ago wrote, "Justin Trudeau and his cabinet and many others have committed crimes against humanity, sedition and treason."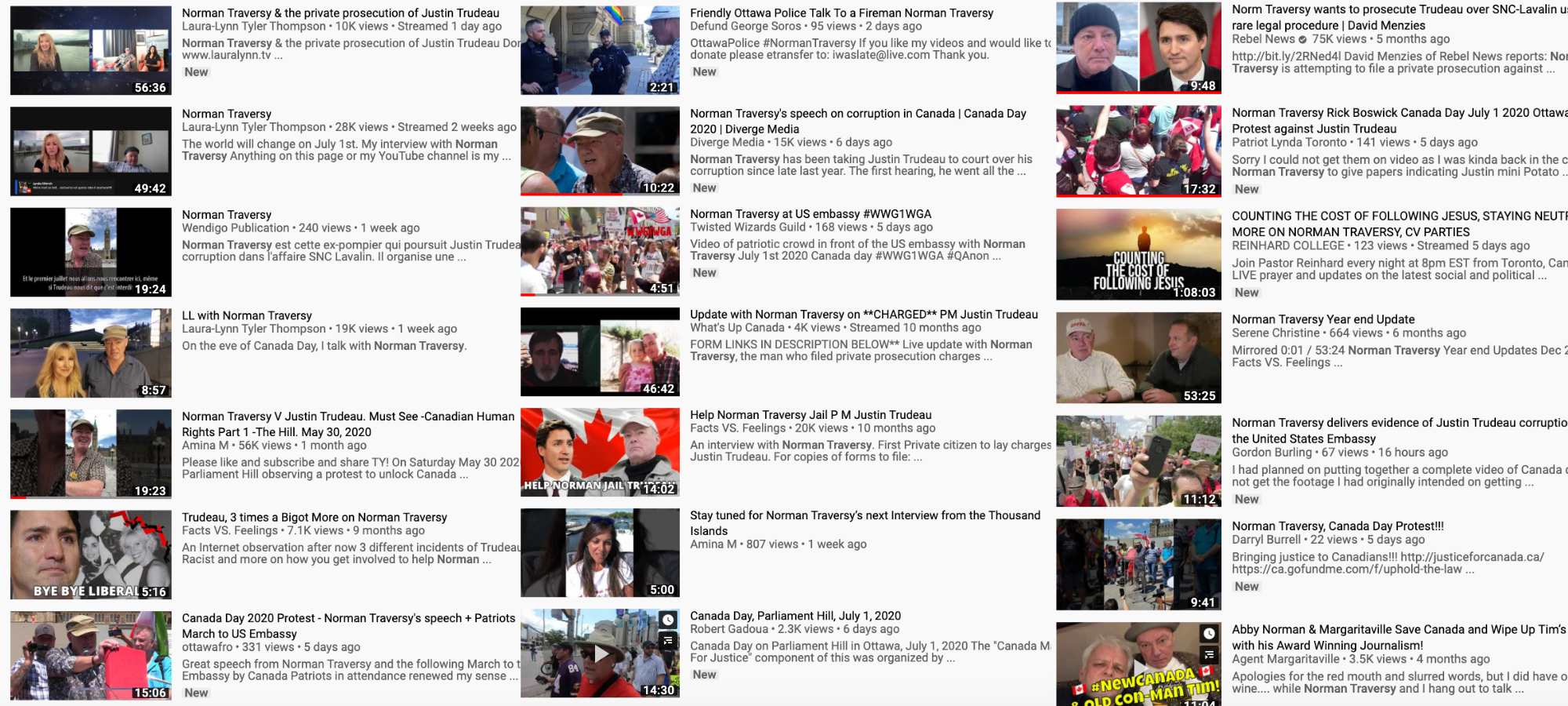 To promote his mission and GoFundMe, Traversy has gone on countless small YouTube channels promoting himself as the only one with the guts to investigate Trudeau. While most of the videos only get hundreds of views they're still influential within the niche far-right Canadian patriot movement. Some of these videos have been uploaded to multiple channels to gain more impact.
GoFundMe told VICE News in a statement the money Traversy raised will only be released once they're aware of how the funds are being spent.
"In this case, if the funds cannot be used as originally intended, GoFundMe will work with the campaign organizer to clearly communicate to donors how donations will be spent, ensure a plan that the donor community is comfortable with, and honour refund requests," said Caitlin Stanley, a spokesperson for the company.
Trudeau, QAnon and the Pickton Murders
Traversy has publicly embraced conspiracies like QAnon—an incredibly popular ever-changing conspiracy that alleges Trump is fighting so-called "deep state" made up of an international cabal of elites, globalists, and pedophile. Due to his inclusion of the baseless child sex trafficking accusations against Trudeau he's quickly become a darling of the Canadian QAnon crowd. At the Canada Day rally, Traversy led the crowd in bellowing "where we go one, we go all," the well-known slogan for QAnon. A video of the moment was posted by Q, the central figure of the conspiracy who claims to be a operative in the American government with "Q" level clearance and posts cryptic messages outlining the secret war against the deep state on a forum known for its ties to neo-Nazism, child porn, and swatting.
"I've been Q'd!," exclaimed Traversy in a video he made after the Canada Rally. "Q made a post about me and had an excerpt of my speech, so that's humbling. That means President Trump has seen it because he sees everything Q does."
Meanwhile, figures in the Canadian QAnon movement have made videos declaring Traversy a hero. One Canadian QAnon YouTuber named Agent Margaritaville who also frequently collaborates with Travesy said, in a video about Norman and his documents, that he "can't believe we've come to this day where we can finally watch this country be fixed."
Tony, an anti-hate researcher with Yellow Vest Canada Exposed who asked his real name not be used because of fear of reprisal, told VICE that he first became aware of Traversy when his fundraiser was at around $23,000 late last year. Since that time, Tony said, the fundraiser exploded and he thinks it comes, in part, from the niche Canadian far-right media embracing Traversy. A Rebel Media video featuring Traversy and his mission has obtained almost 80,000 views since being posted in January. Other videos of Traversy, including one whose title says the man is "risking his life to inform you," have gotten upwards of 300,000 views.

It's not just the QAnon conspiracy that Traversy has embraced. In a YouTube appearances from October Traversy linked Trudeau to the infamous Robert Pickton pig farm murders—the convicted serial killer believed to have killed dozens of women—and stated that the farm was the Canadian "blackmail factory" equivalent to what onspiracy theorists allege occurred on Epstein Island. Travesry says the Canada's elite were secretly videotaped attending parties at the farm where children were ritualistically murdered.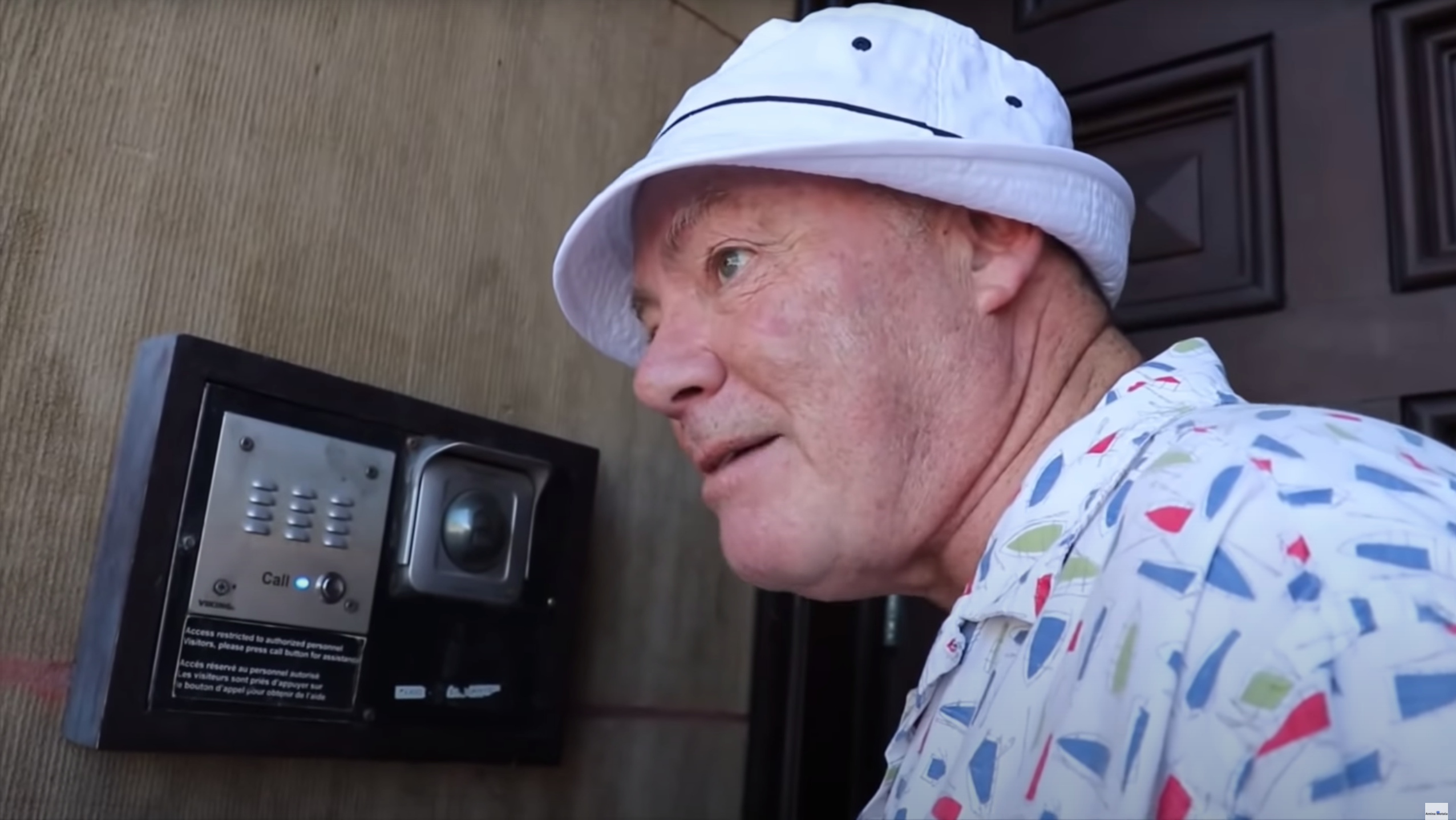 On July 6, a video was posted showing Traversy going to Trudeau's office in Ottawa and floated another popular conspiracy with the QAnon crowd when security told him the prime minister wasn't there. "We've been told he's under house arrest," says Traversy loudly into a speaker box outside Trudeau's office.
Less than a week earlier, on July 2, Corey Hurren a 46-year-old Manitoba man armed with four firearms rammed the gates that lead to the property Trudeau lives with his family. Police charged Hurren 22 counts including uttering threats against the prime minister. Hurren's social media profile shows that he had posted conspiracy content shortly before ramming the gates and QAnon content back in March.
Some in the QAnon world have described Hurren's alleged actions as a false flag action meant to discredit the movement.
Everyone is getting 'duped'
The odds of Traversy ever getting his private prosecution of the ground seem extremely unlikely. Peter Sankoff, alaw professor at the University of Alberta, told VICE that a private prosecution is a "leftover relic of an earlier era." Sankoff said the power of private prosecutions has been narrowed significantly in the past few decades making it "really hard" to conduct one.
"The private prosecution is a dying breed," said Sankoff.
Despite the slim odds, Traversy has still managed to build a following among those desperate to see Trudeau removed from office. Tony says the amount of money raised is "disheartening" and thinks everyone, including Traversy, is getting duped. While the far-right in Canada has been able to fundraise large amounts before, particularly in the case of the United We Roll convoy's trip to Ottawa, it wasn't so obviously dubious
"It is very different from The United We Roll convoy because they had something to put the money towards because the convoy did actually cost a lot of money," said Tony. "This is all going to one guy for a bunch of pieces of paper, essentially, that he didn't even leave on the embassy doorstep. The court cases that are going nowhere, and it's all going to one guy and it's all unaccountable.
"It's unbelievable how much money that guy's gonna have for this."
Follow Mack Lamoureux on Twitter.

How to Draw a Child


Publisher:

The New Yorker


Friday, 10 July 2020 06:00



The New Yorker's cartoon editor, Emma Allen, speak with the cartoonist Emily Flake about how to draw children.
Florida's GOP governor is hindering Trump's Jacksonville convention in a 'stunning act of political pettiness'
Publisher:
The Week
Friday, 10 July 2020 05:57
The people in charge of putting together President Trump's Republican National Convention in Jacksonville, Florida, next month have several large, intertwined challenges: time, the state's raging COVID-19 outbreak, and money. The convention planners are "under pressure to raise tens of millions of dollars in the next five weeks to help finance the three-day convention," and as they struggle against this "almost impossibly rushed time frame," Florida Gov. Ron DeSantis (R) is actively "hindering those efforts," The New York Times reports.
DeSantis "has directed his top fund-raiser, Heather Barker, to tell donors not to give to the convention because of a personal dispute between the governor and Susie Wiles, his former campaign manager who is serving as an informal adviser to the convention planners," the Times reports, citing multiple people familiar with his actions. DeSantis fell out with Wiles, a longtime, well-connected Florida GOP operative who lives in Jacksonville, last fall over suspicious she leaked an embarrassing personal memo suggesting DeSantis charge lobbyists for access.
Trump's campaign credits Wiles with helping it win Florida in 2016, when she served as its Florida political director, and when DeSantis told Trump over the phone that Wiles was overrated as an operative, "Trump did not respond, and changed the subject," the Times reports. DeSantis lobbied Trump to move the convention to Florida after North Carolina required masks, social distancing, and other measures from turning the RNC into another super-spreader event.
Most of the contributions for the Jacksonville convention are coming from national donors, so convention fund-raisers say DeSantis' alleged sabotage is having little effect, the Times reports. But still, "the governor's threat to hold up resources in his own state was seen by Republican officials as a stunning act of political pettiness." Read more at The New York Times.
Churches are being unfairly scapegoated for the pandemic
Publisher:
The Week
Friday, 10 July 2020 05:55
Shuttered churches have become a condensed symbol in the political controversies of the coronavirus pandemic, perhaps second only to masks.
Closing houses of worship in the name of containing the spread of COVID-19 is a shameless ploy by the godless left to skirt the Constitution and functionally ban religion in America, voices charge from one extreme. From the other come accusatory tales of science-denying fundamentalists whose privileged demands for special treatment during an unprecedented crisis are literally killing people.
Journalism ought to help dispel the distortions that make these narratives possible — pick out the kernels of truth and discard the chaff. Too often it has not.
The New York Times on Wednesday published a case in point. "Churches were eager to reopen," the headline announced. "Now they are a major source of coronavirus cases." A shocking claim! Let's see the evidence:
Weeks after President Trump demanded that America's shuttered houses of worship be allowed to reopen, new outbreaks of the coronavirus are surging through churches across the country where services have resumed. [...] More than 650 coronavirus cases have been linked to nearly 40 churches and religious events across the United States since the beginning of the pandemic, with many of them erupting over the last month as Americans resumed their pre-pandemic activities, according to a New York Times database. [The New York Times]
Wait, that's it? The contrast is stark between the headline's branding of churches as a "major source" of contagion and the story's citation of 650 church-linked cases out of 3 million nationwide. It was a contrast promptly noted.
"The not-so-subtle subtext," observed Reason's Jacob Sullum, is that "[r]eopening churches was reckless, because they are more likely than other venues to be the sites of superspreading events, regardless of the precautions they take. But the evidence presented by the Times does not support that thesis." The Billy Graham Center's Ed Stetzer raised the same objection, deeming this "a headline looking for a story" and arguing the "real story" is that "churches are gathering and remarkably few infections are taking place."
The total number of church-linked infections is almost certainly not a mere 650. The Times doesn't tell us the size of its database, but it presumably does not account for all 3 million confirmed COVID-19 infections. That means 650 is a subset of some smaller number of tracked cases, how many, we don't know. We do know tens of thousands of cases have been tied to other locations — 24,000 to meatpacking plants and 57,000 to prisons — which suggests the story is much closer to Stetzer's characterization than its headline.
But that headline is what was published atop an article suggesting churches are uniquely dangerous places where social distancing and mask use somehow stop working. And the Times piece is not a wild aberration, though it stands out as a straight news item so poorly framed and explained. Recent months have seen too much journalism on churches and COVID-19 which is similarly misleading or incomplete.
A recent Politico story, for example, questions why "officials have declined to single out church-related outbreaks as problematic" while offering little evidence churches deserve to be thus singled out. The report says case clusters "are surfacing in counties across the U.S. where in-person religious services have resumed" — but many other indoor public spaces have opened in those same counties. Is there data showing the churches are unusually culpable? Politico does not present it. Meanwhile, an emergent genre of stories argues evangelicalism is itself a public health hazard.
There's not no story here. Some prominent religious figures have opposed precautions as basic as masking. Some churches have rebelled against pandemic orders, including orders no more onerous for churches than for secular gatherings. That deserves coverage. I've written critically at The Week and elsewhere of religious institutions that made very noisy decisions to defy public health guidance — particularly in the early days of the pandemic, when we had much less information, testing, and weather suitable for outdoor meetings than we do now.
But the backdrop of that visible noncompliance must not be missed: The vast majority of churches closed as directed. A late April poll found only 3 percent of Americans said their house of worship was still meeting in its building. That is an excellent rate of compliance, particularly given the spiritual and practical difficulty of the ask. Cell phone data shows churchgoers even stayed home on Easter, a day attendance usually spikes. And though white evangelicals have below-average personal concern about the pandemic, their participation in public health measures tracks pretty closely with that of the general public.
Too many stories depicting religious assembly or religiosity itself as especially dangerous neglect to mention this context. They also neglect to mention the reality that articles like the Times report are possible because churches can perform contact tracing that the United States is not doing on a larger scale (as compared to countries like South Korea). A church outbreak is far easier to track than one in a store, restaurant, or political rally or protest. It's not unfair for journalists to use churches for granular examination of contagion hotspots, but it is unfair to omit this explanation of why churches are so well suited to this type of report.
It's also not unfair to scrutinize religious responses to COVID-19, but that scrutiny should come with a more generous recognition that most religious people are, just like the journalists covering them, muddling through this as best they can.
<< <

Prev

1

2 3 4 5 6 7 8 9 10 Next > >>