Most people think only parents need life insurance, but as a financial planner with no kids, I still bought a policy for 3 reasons
Publisher:
business insider
Saturday, 22 August 2020 08:14
 
Most people think of life insurance as something you need to protect your family once you have kids, but as a financial planner I know that's not the only reason to invest in this crucial coverage.
My wife and I both have term life insurance policies listing the other as the beneficiary, even though we don't have kids.
We got the policies because we're young and would want the other to be financially protected if either of us died unexpectedly, we own a home together, and we also co-own a business.
Getting life insurance is not on most people's priority lists. It can feel like a hassle to go through the process of scheduling an exam and sharing your medical history.
The reality, however, is that life insurance can be a useful part of your overall plan to make sure your assets, your property, and the financial security of your loved ones can withstand the worst-case scenario of your sudden death.
This is especially true if you have minor children or dependents. In general, you may not need life insurance until you have someone who is financially dependent on you, because life insurance is designed to protect those individuals from financial hardship if you (and your income) were no longer here.
I've even used that rule of thumb myself in the past. But a rule of thumb is just that: a general guideline, a little bit of context to help you make a decision.
You still need to dig into the details of your specific situation to determine the best solution. That's exactly what my wife and I did when we each made the decision to purchase life insurance policies, even though we don't have children.
Why I went against the general guideline and got life insurance, even though I don't have dependents
My wife, Kali, is not financially dependent on me. We combined our finances when we got married, so we hold many joint assets together that she would inherit if I died, and she's listed as the primary beneficiary on my retirement accounts.
We also set up an estate plan (another critical component of a complete protection plan for your finances) to ensure we each were protected in the event that one of us was incapacitated or deceased.
It's fair to ask, then, why we bothered to purchase term life insurance policies. There were three main reasons:
We're young
Kali is 30 years old, and even though she would have our assets to rely on, she would need to make significant changes to her lifestyle to make them last from now until her elder years.
It provided me with peace of mind to get a life insurance policy that guaranteed she would be financially secure for the rest of her life no matter what happened to her employment.
We own a business together
And that is the second reason: Kali and I run a business together. She's technically an employee of the business, and may not be able to perform all the critical functions required to keep the business operational if I died. 
While she could try to sell the firm and generate a lump sum from the profits, it would be difficult, time-consuming, and emotionally painful to do so. She would also lack liquidity and may struggle to pay bills or meet financial obligations before a transaction was finalized.
We own a home
That brings up the third reason, which is that we own property and while, again, Kali could feasibly sell it and pay off the mortgage with the proceeds, that could take time and would be a difficult and emotional process. 
But as the beneficiary of my life insurance policy, she could take the death benefit and immediately pay off the mortgage to eliminate the burden on her cash flow and invest the rest to support her long-term financial needs.
You don't necessarily need children before you consider protection planning
The life insurance policy I have is a term life policy stretching 20 years, meaning that 20 years from now, the policy will automatically lapse (unless we renew).
At that point, we likely wouldn't need the coverage: We would have had 20 more years of earning history, mortgage repayment, and contributions to savings and investment accounts under our belts. If something happened to either of us at that point, the other would most likely not face the same kind of financial hardship then as we would today.
Obviously, not everyone runs a business with their spouse (which is the leading reason why we both have policies with the other person as the beneficiary). But there are many, many reasons why a low-cost, term life insurance policy could provide added protection against financial struggle should something unexpected happen to you or your partner, even if you both earn incomes.
While the need for a term life policy is clear when you have children who depend fully on you for financial support, a working spouse might also need additional protection if they would find themselves hard-pressed to manage the household finances if they only had their income to rely on.
You need to be careful that you don't buy more coverage than you need when looking at life insurance, and it's smart to shop around to gather various quotes to ensure you're not overpaying for premiums. 
But putting the right policy in place can provide peace of mind for you and your family, whether "family" includes children or not.
Related Content Module: More Life Insurance Coverage
Sat Aug 22 '20 Announcement from AirView Wireless Touchscreen Portable Monitor
Publisher:
Indiegogo: Announcements
Saturday, 22 August 2020 08:10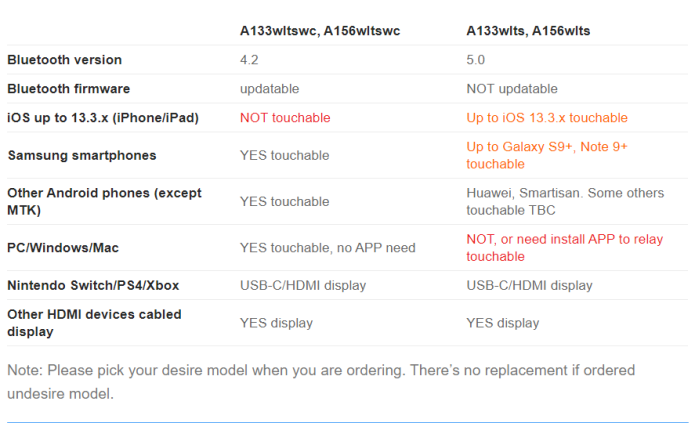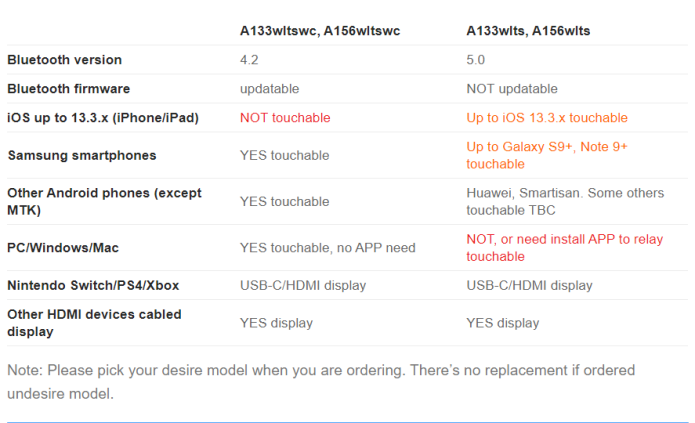 Please see the below table. New model A133wltswc, A156wltswc is available for order. It can support any Android phones (except MTK) touchable. PC/Windows/Mac touchable no APP need. NOT for iOS. Please pick your desire model when you are ordering. There's no replacement if ordered undesire model. Thank you.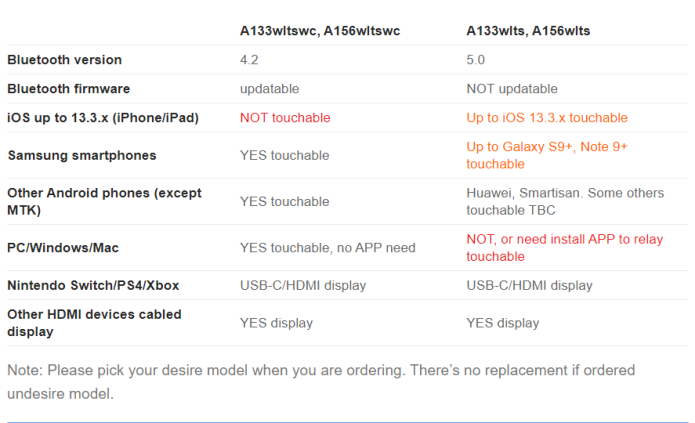 | | | |
| --- | --- | --- |
| | A133wltswc, A156wltswc | A133wlts, A156wlts |
| Bluetooth version | 4.2 | 5.0 |
| Bluetooth firmware | updatable | NOT updatable |
| iOS up to 13.3.x (iPhone/iPad) | NOT touchable | Up to iOS 13.3.x touchable |
| Samsung smartphones | YES touchable | Up to Galaxy S9+, Note 9+ touchable |
| Other Android phones (except MTK) | YES touchable | Huawei, Smartisan. Some others touchable TBC |
| PC/Windows/Mac | YES touchable, no APP need | NOT, or need install APP to relay touchable |
| Nintendo Switch/PS4/Xbox | USB-C/HDMI display | USB-C/HDMI display |
| Other HDMI devices cabled display | YES display | YES display |
AirView team
Apple helped build a top secret iPod for the government that only 4 people at the company even knew existed, former engineer says (AAPL)
Publisher:
business insider
Saturday, 22 August 2020 08:10
Apple helped the US Department of Energy develop a special iPod that only four people within the company knew about, a former engineer revealed.
The DOE was looking to add custom hardware to an iPod and covertly record data from that hardware to the iPod's disk.
It's unclear what the secret iPod was intended for, but Nest founder and iPod co-inventor Tony Fadell confirmed the project in a series of tweets. 
Apple helped develop a special iPod that was so secretive only four people at the company even knew it existed, a former Apple engineer revealed this week.
David Shayer, who says he was the second software engineer hired for the iPod back in 2001, said he was tasked with a special assignment in 2005, according to a post he wrote on TidBits.
The US Department of Energy was looking to add custom hardware to an iPod and covertly record data from such hardware to the iPod's disk.  It was Shayer's job to provide two men from Bechtel, a contractor for the DOE, with any assistance needed from Apple.  
Apple and the Department of Energy did not immediately respond to Business Insider's request for comment. 
Little details are known about the iPod or what it was designed to do. But Shayer described how he showed the two men how to "set up the development tools, build a copy of the operating system from a source, and load it onto the iPod." Shayer speculates that the special iPod may have been a "stealth Geiger counter," but there's no way to know for sure.
The only people at Apple who knew about the project were Shayer, the director of iPod software, the vice president of the iPod division, and the senior vice president of hardware, he said.
Tony Fadell, the Nest co-founder who co-created the iPod during his time at Apple in the early 2000s, also corroborated Shayer's story in a series of tweets. Matt Rogers, who also co-founded Nest, chimed in to say he remembered seeing the two men Shayer described around the office. 
"The project was real [without] a doubt," Fadell tweeted.  
Absolutely spot on David Shayer…
This project was real w/o a doubt.
There was whole surreal drama & interesting story about how this project was kicked off & then kept secret.

The Case of the Top Secret iPodhttps://t.co/jgZqcvKIsV

— Tony Fadell (@tfadell) August 18, 2020
 
According to Rogers' tweet, it was "super unusual" to have unfamiliar people in the office around that time. But being Apple, of course, the two men from Bechtel were subject to a variety of restrictions in order for the company to maintain secrecy.
Shayer even had the IT department reroute the Ethernet to connect only to the public internet so that the two men couldn't access Apple's internal network. They also weren't allowed to access Apple's source code server directly, so Shayer had to give it to them on a DVD. That DVD wasn't allowed to leave the building either.
"This wasn't a collaboration with Bechtel with a contract and payment; it was Apple doing a favor under the table for the Department of Energy," Shayer wrote. "But access for that favor only went so far."
SEE ALSO: Apple and Samsung newest phones use a little-known technology that lets your phone understand exactly where it is — and could mean you never misplace anything again
Join the conversation about this story »
NOW WATCH: How waste is dealt with on the world's largest cruise ship
Russian dissident Alexei Navalny arrives in Germany after suspected poisoning


Publisher:

New York Post


Saturday, 22 August 2020 08:08



Russian opposition leader Alexei Navalny, who fell into a coma after a suspected poisoning, landed in Germany for treatment Saturday following a day-long standoff over whether he would be allowed to leave a Russian hospital. Navalny remains in a coma but is in stable condition Jaka Bizilj, of the German NGO Cinema For Peace, which...
Two engine setups turn the new Toyota Supra into two totally different — and compelling — sports cars
Publisher:
business insider
Saturday, 22 August 2020 08:06
Last year, Toyota brought back the legendary Supra. For the 2021 model year, it updated the launch edition of the two-door, which shares a lot of DNA with the BMW Z4.
I tested the new GR Supra 3.0 and Supra 2.0.
The Supra 3.0 has a 3.0-liter 382-horsepower inline six-cylinder engine; the 2.0 has a 2.0-liter inline four, making 255 horsepower.
Both versions are compelling, with the 3.0 offering more straight-ahead velocity and the 2.0 providing a lighter, dartier vibe.
When Toyota revived the Supra last year, my big question was whether the newly created version of the iconic car could live up to its reputation as being just one of those cars. Fortunately for Toyota, it did, and then some. "This car has massive punch and ferocious composure," I wrote. "It's hot in a straight line, but it's a thing of beauty when slung into a corner, and the steering is just about perfect."
So when Toyota trotted out the Supra 2.0, which swaps the 3-liter 6-cylinder engine for a 2-liter 4-cylinder, my question became, Why risk confusing the market by offering two versions of an already excellent car?
I'll get to the answer in just a bit. But for now, let's consider what we have before us: a legendary nameplate, with two powerplants under the hood. The horsepower difference between them is over 100 ponies. They look the same, but behind the wheel, they're quite distinctive. And they're each quite compelling.
Read on to find out how and why:
FOLLOW US: On Facebook for more car and transportation content!
My Toyota GR Supra 3.0 Premium test car was from the 2021 model year and arrived wearing an "Absolute Zero" white paint job. Price? Toyota didn't list it for my tester, but it's around $55,000 to start.
The 2021 Supra 3.0 benefited from a passel of updates to the 2020 car.
The design, of course, wasn't really altered, despite the variety of under-the-hood upgrades.
I'm not a fan of the busy, folded, swoopy sheet metal.
I could do without some the pointless exterior details like the faux door vents, but whatever.
You just have to get used to the extraneous plastic. And then the Supra can grow on you.
My tester has 19-inch forged aluminum wheels front and rear ...
... Along with red brake calipers and Michelin Pilot Super Sport tires all the way around.
The front end is emblematic of my like/not-like relationship with the Supra. I don't wanna favor those L-shaped scoops, the headlights have that odd thingy extending at the bottom ...
... But change the angle and it looks better. Those LED headlights are quite effective, by the way.
Change the angle again, and it's kinda too much. Luckily, the front aero isn't so snug to the ground that you have to be scrupulous about entering sloped driveways.
The hatch terminated in a flipped-up spoiler. Which is sort of oddly shaped.
Peer closely at the lower part of the back end and you can glimpse a modest diffuser.
The dual pipes are a nice touch, as are the broad rear haunches.
Designer Nobuo Nakamura clearly executed an overall vision with the Supra. But it might not be for everybody.
Let's pop the hatch and see what we can see in the cargo hold.
Sigh. There's less that 10 cubic-feet to work with.
You could stow a couple of overnight bags. I think a golf bag might be a challenge.
Let's slip inside and sample the interior (no fancy names, by the way — just "Black").
Its two seats are cozy, but you knew that. What else could you expect from a sporty coupé?
Toyota does a nice seat! The Supras have cut-outs to accommodate a racing harness, and you get some excellent bolstering.
The leather wrapped steering wheel is the usual multifunction affair ...
... And the instrument cluster is refreshingly simple.
The Supra has paddle shifters for auto-manual driving ...
... But I wound up using them sparingly. The regular auto delivered plenty satisfying performance.
The most prominent interior design feature is the carbon-fiber trim.
The wireless charging cubby is sort of difficult to access, but it works fine once you get your phone in there.
Something to admire: Toyota has enabled just two drive modes for the Supra — Normal and Sport. In a world of seemingly endless configurations, I appreciated the simplicity.
The joystick shifter takes some getting used to.
Toyota co-developed the car with BMW (the Z4 is the Supra's mechanical sibling), and it shows in the iDrive-ish buttons-and-knob interface controls ...
... and in the 8.8-inch infotainment screen. If it looks as though it was taken from a BMW, it basically was.
The system requires some initial processing of submenus, but it achieves its objectives. Navigation is good, Bluetooth connectivity is seamless, and there's a USB port for device integration.
Time to pop the hood!
That's a 382-horsepower, inline six-cylinder engine, with a twin-scroll turbocharger. It makes 368 pound-feet of torque.
The power is sent to the rear wheels through an eight-speed automatic. The Supra GR I drove last year made 335 horsepower with 365 pound-feet of torque. My 0-60 mph time in 2019 was around four seconds, and the new 3.0 Supra was a tad faster.
Now, let's have a look at the GR Supra 2.0! In "Renaissance Red," it started at around $43,000.
Time to look under the hood of the lesser Supra.
Minus the bracing, this guy looks the same as its bigger brother, but under the engine cowling is a 255-horsepower, 2.0-liter turbocharged four-cylinder, making 295 pound-feet of torque. That's a significant drop from the six-banger. The eight-speed auto remains.
The 0-60 mph dash in the 2.0 Supe passed ... well, in a notably more leisurely manner than in the 3.0. It's supposed to be five seconds. I thought it was slower than that in an unofficial test.
But the 2.0 is serious fun once the car gets up to speed. I took it on a long drive — about 200 miles round-trip — and zipped around many a semi on the highway.
The 2.0 is also lighter than the 3.0 — by just over 200 pounds. On the road, I didn't really detect any major differences, but on windy roads, the 2.0 had a more feathery demeanor.
So what's the verdict on the two flavors of Supra?
To be honest, it's all sort of weird. In the Supra 3.0, I sometimes thought: Overpowered! In the 2.0: Underpowered! But then I hammered the 3.0's throttle or powered out of a curve and thought: Yes! Or it tossed the 2.0 into a corner and thought: Sweet!
It's not hard to see how this shakes out. As I described it to my 14-year-old son as we discussed the pros and cons of each trim, the 3.0 is fast, while the 2.0 is quick. Stated another way, the 2.0 is objectively slow, but you don't really need the speed to have fun with it. And the 3.0 is objectively speedy — and that's a good thing if you want to feel the car serve up its power.
So why did Toyota update the Supra so soon after rolling out the new car? Well, on the 2.0 side, it was to offer a less expensive ride. But for the 3.0, the car has been retuned to greater stability; like a lot of reviewers, I felt like the Supra GR wanted to sling its rear wheels around (not that I asked it to do so, given that I don't track-test vehicles).
So Toyota tamed that eager oversteer by revamping the suspension and drivetrain settings to make the coupé more manageable at speed. In my hands, the 3.0 remained a go-fast-on-the-freeway sportster, but I did notice that the car had a more planted demeanor. On my first go-around, I compared the Supra to the Subaru BRZ, a car that I find wants to rotate at 40 mph. Not a bad thing. But evidently not a good thing as the speedo climbs higher. Ergo, the changes to the Supra.
Ultimately, I'd be happier with the 2.0, as I'd enjoy the driving dynamics at the speeds I typically experience, but when getting on it, I'd have access to all the horsepower the engine has on offer (as well as more turbo lag than with the 3.0, but you can't have everything).
All the top Republicans who say they won't vote for Trump in 2020
Publisher:
business insider
Saturday, 22 August 2020 08:02
Several Republican leaders have publicly voiced their opposition to Trump and signaled they will not support his 2020 reelection.
The list includes ex-officials and those currently in office, such as former President George W. Bush and Sen. Mitt Romney of Utah, the GOP presidential nominee in 2012.
At the Democratic National Convention this week, more Republicans added to the chorus against Trump, including former Secretary of State Colin Powell and former Ohio Gov. John Kasich.
Throughout his presidency, Donald Trump has stoked tensions within the Republican Party he leads, bashing party loyalists and even previous presidential nominees who dared to defy him with names like "loser" and "RINO," for Republican in name only. 
These divisions and Trump's no-holds-barred rhetoric have prompted lifelong Republicans to come forward and say they're not backing him in 2020. It's also led to the creation of groups like NeverTrumpers, The Lincoln Project and Republican Voters Against Trump.
Some of these current and former GOP leaders have stretched that promise further and shared plans to instead tick the ballot box for his rival, Democratic presidential candidate Joe Biden. A handful joined the ranks this week at the four-day virtual Democratic National Convention.
Scroll for a list of all the high-ranking Republican officials who have said they will not support Trump's reelection bid.
Vermont Gov. Phil Scott
Vermont Gov. Phil Scott shared that he will not be voting for Trump on Friday.
Tweet Embed:
//twitter.com/mims/statuses/1296861238908125184?ref_src=twsrc%5Etfw
"I won't be voting for President Trump," says Republican Gov. Phil Scott of Vermont. "I have not decided, at this point, whether to cast a vote for former Vice President Biden, but it's something that I would consider."
The announcement comes as Scott is seeking a second-term as governor in the left-leaning state for the upcoming general election. He has been governor since 2017 and previously served as lieutenant governor and state senator.
Scott has said that he did not back Trump in the 2016 election.
Former Defense Secretary and Nebraska Sen. Chuck Hagel
Former Defense Secretary and Sen. Chuck Hagel joined more than 70 former national security officials from a handful Republican administrations to endorse Joe Biden on Friday.
"While we – like all Americans – had hoped that Donald Trump would govern wisely, he has disappointed millions of voters who put their faith in him and has demonstrated that he is dangerously unfit to serve another term," the statement reads.
"While some of us hold policy positions that differ from those of Joe Biden and his party, the time to debate those policy differences will come later," it continues. "For now, it is imperative that we stop Trump's assault on our nation's values and institutions and reinstate the moral foundations of our democracy."
Hagel served as defense secretary from 2013 to 2015 during the Obama administration and as a GOP senator from 1997 to 2009.
Former Ohio Gov. John Kasich
Former Ohio Gov. John Kasich, a self-delared "lifelong Republican," crossed the aisle earlier this week when he made an appearance at the DNC rebuking Trump's attacks on Biden.
The former governor implored Americans to think beyond party lines this November and join him in "choosing a better way forward."
"I'm sure there are Republicans and independents who couldn't imagine crossing over to support a Democrat," Kasich said. "They fear Joe may turn sharp left and leave them behind. I don't believe that because I know the measure of the man: reasonable, faithful, respectful. And you know, no one pushes Joe around."
Kasich previously ran against Trump in the 2016 Republican presidential primary. He served as governor from 2011 to 2019 and before that in the state's legislature.
Former Secretary of State Colin Powell
Former Secretary of State Colin Powell echoed the sentiments of many Republicans at the DNC, indicating his support for Biden over Trump.
"Our country needs a commander-in-chief who takes care of our troops, in the same way he would his own family," Powell said at the event. "With Joe Biden, that doesn't need teaching."
Powell did not support Trump in 2016 and voted for his opponent Hillary Clinton. Another Democrat he has voted for in the past is Barack Obama. He served under the George W. Bush administration.
Former New Jersey Gov. Christine Todd Whitman
Former Gov. Christine Todd Whitman also appeared in the DNC clip deemed "We the People Putting Country Over Party" alongside fellow Republicans voicing their support for Biden.
"What am I doing here? I'm a lifelong Republican," Whitman said. "My parents were introduced at the Republican National Convention by their parents. That's how far back it goes."
"But this isn't about a Republican or Democrat. It's about a person," she added. "A person who can work with everyone, Democrats and Republicans, to get things done. Donald Trump isn't that person. Joe Biden is."
Whitman served as governor of New Jersey from 1994 to 2001.
Former New York Rep. Susan Molinari
Former Rep. Susan Molinari, a native New Yorker, told viewers at the DNC that she has known Trump for most of her political career and has also worked with Biden.
"So disappointing and lately, so disturbing" Molinari said of Trump. Biden, on the other hand, is a "really good man" and "exactly what this nation needs at this time."
She served as a congresswoman for New York from 1990 to 1993.
Former Pennsylvania Rep. Charlie Dent
Former Rep. Charlie Dent endorsed Biden earlier this week, blasting Trump as an "illiberal populist" who ineffectively responsed to the coronavirus pandemic. Dent served in Congress from 2005 to 2018.
"Never in my wildest dreams could I have imagined a Republican President praising autocrats and advancing Russian President Vladimir Putin's foreign policy interests in Europe and the Middle East," the former congressman hailing from Pennsylvania wrote in an op-ed for CNN.
"Biden is fundamentally a decent and honorable man who respects the American tradition, supports the rule of law, embraces America's friends and allies, and will restore some semblance of normalcy to the functioning of government," Dent said. "That's all I want — and not too much to ask of a President."
Former National Security Adviser John Bolton
Trump's former national security adviser John Bolton released an explosive memoir earlier this year in which he slammed the president.
During several interviews promoting the book, Bolton revealed that he will not be voting for Trump. He told Insider's Sonam Sheth that he would be writing in a conservative Republican, saying that he wouldn't vote for Trump "for philosophical reasons and because he's not competent."
Bolton worked under the Trump administration from April 2018 to September 2019.
Sen. Mitt Romney of Utah
Sen. Mitt Romney, the 2012 Republican presidential nominee, has broke with his party on several occasions as a vocal critic of Trump, and was the lone Republican to vote in support of his impeachment.
More recently, he has struck back at the president's bitter tone toward the Black Lives Matter protests, taking to the streets himself to participate in the racial justice movement.
Romney made it clear in an interview with The Atlantic earlier this year that he will not vote for Trump.
Romney has been in his current office since 2019 and previously was governor of Massachusetts. He lost to Barack Obama in the 2012 presidential election.
Former President George W. Bush
Former President George W. Bush will not be voting for Trump, according to people close to him as reported by the New York Times.
Bush did not support Trump in 2016. He reportedly called Trump's inaugural address "some weird s--t." He has distanced himself from the president throughout his tenure.
Former Sen. Jeff Flake of Arizona
Jeff Flake had called out Trump while he was still a senator but piled on his criticisms after he left the office in 2019, penning an op-ed pleading with fellow Republicans to not back the president's reelection.
Flake confirmed in an interview with the Washington Post that he does not plan to vote for Trump this year.
<< <

Prev

1

2 3 4 5 6 7 8 9 10 Next > >>