Eli Manning's career deserves a better ending — with or without the Giants


Source:

New York Post


Friday, 24 November 2017 19:50



If this is the way it will be for Eli Manning, too often searching hopelessly and helplessly for answers and completions, the question is less if and when Davis Webb gets some kind of chance and more about whether a frustrated, soul-searching Manning will change his mind about finishing his career as a Giant and...
North Korean soldier's medical report exposes the regime's evil


Source:

New York Post


Friday, 24 November 2017 19:50



'Oh" is all that's known for the name of the North Korean soldier whose escape to South Korea became a viral video. But we do have a bit more to the story. Shots hit the 24-year-old five times in the lungs and intestines as he ran to freedom in the heavily guarded border zone. He's...
Al Franken's unconvincing 'apologies'


Source:

New York Post


Friday, 24 November 2017 19:46



Al Franken comes out of the world of show business, where scripts are constantly rewritten — so that's probably why he's just issued a fourth version of his attempt to explain sexual-harassment charges against him. But the Minnesota senator's still not making the kind of full-throated apology called for by the accusations against him by...
Top 10 Best Amazon Black Friday Deals on Books 2017
Source:
Heavy.com
Friday, 24 November 2017 19:45
I have a wise aunt who has always said that buying a book is never a waste of money because a good book entertains and endures. This thinking is doubly true when it comes to the holiday season too. Books make fantastically thoughtful gifts and stocking stuffers. Finding a nice book and adding a personal message on the inside cover is sweet and sure to delight anyone who reads it for years to come. Plus, a good book for holiday travel or for some quiet time to recharge amidst the madness is essential. Make sure you check out our overall list of the best new books to give and receive this Christmas, too.
Gifting a book to a child for the holidays is also a great way to inspire them to read more and learn about different topics. Snuggling up at bedtime with an entertaining story is the ultimate bonding experience and a routine they'll look forward to. You can also create a new Christmas tradition, and give a book on Christmas Eve, along with some cute pajamas.
Black Friday is an awesome time to score seriously terrific book deals. If there's a title on your list that you haven't gotten around to getting yet, today you'll find it at incredible savings. It's also the best time to get books to pass as presents for those young and old readers on your list with prices up to 67 percent off. Check out our top ten Black Friday book deals below and snag a few before they sell out. Don't forget about our other fantastic Black Friday gift guides too, to help you accomplish the bulk of your Christmas shopping early. We have great gets on gifts for women, pets, and so much more.
---
1. 67 Percent Off 'NO EXIT' by Taylor Adams, Kindle Edition
Nothing provides an awesome holiday escape like a "gripping thriller full of heart stopping twists." This exciting book from best-selling author Taylor Adams is under one dollar for its Kindle edition. A total page-turner that will keep you on the edge of your seat with a brilliant ending, save this one for a snowy afternoon, drinking hot chocolate by the fire.
Price: $0.99
---
2. 32 Percent off 'A Monster Calls: A Novel' Movie Tie-In Edition by Patrick Ness
Here's a paperback with a fascinating premise: There's a monster in Conor's backyard that is ancient and wild, seeking the truth. The truth of what? You'll have to read it to find out. This haunting and darkly funny novel is full of mischief, loss, and monsters both real and imagined. This movie tie-edition also includes a book group discussion guide, so get a few to give to your reading buddies and make it the next book club pick.
Price: $6.23 (32 percent off MSRP)
---
3. 43 Percent Off 'The Christmas Crocodile' by Bonnie Becker
The Christmas Crocodile is an awesome and unique Christmas book for the young elementary school reader in your life. It's an endearing tale about a naughty crocodile that appears under a family's Christmas tree and proceeds to gobble up everything in sight. The illustrations are fun and delightful too and you can't beat an elegant hardcover book for under ten dollars.
Price: $7.99 (43 percent off MSRP)
---
4. 43 Percent Off '100 Snowmen' by Stephen Gilpin
Count all the playful and busy snowman until you get to 100 in this sweet winter tale. These active guys are out and about having a snowball fight, riding a sled, playing hide-and-seek, and having merry fun. This hardcover book is a lovely addition to any child's Christmas book collection and is one they'll surely enjoy pulling out year after year.
Price: $6.99 (24 percent off MSRP)
---
5. 44 Percent Off 'Obama: Only In America' by Carole Boston Weatherford
I'd first like to point out how amusing it is that a book on our forty-fourth president is 44 percent off today. This special tome about President Barack Obama features elegant, biographical text by award-winning author Carole Boston Weatherford and beautiful illustrations by Robert Barrett. The book takes you on a journey starting with his childhood in Indonesia and going through his time at the White House. Any Obama fan on your list will be delighted with this unique look into a former president's fascinating life.
Price: $9.99 (44 percent off MSRP)
---
6. 40 Percent Off 'The Adventure Collection: Treasure Island, The Jungle Book, Gulliver's Travels, White Fang, The Merry Adventures of Robin Hood' Packaged Set
This gorgeously packaged set includes five classic tales that have been inspiring and amazing readers for generations. Each volume is beautifully bound and features vivid four-color illustrations, a ribbon marker, and unique design elements throughout. All five books come housed in a keepsake slipcase with a magnetic closure too. If you have a serious school-aged reader on your list, this would make a fantastic Christmas gift they'll cherish for a lifetime.
Price: $42.99 (40 percent off MSRP)
---
7. 45 Percent Off 'How To Teach A Slug To Read' by Susan Pearson
Another fantastic hardcover book at almost half off, How To Teach A Slug To Read features witty text and cute illustrations. It's the perfect tale to teach any little one that learning to read is fun, and is centered around a little boy teaching a mama slug how to read using his playful and practical rules. Its smaller size, standing at just 11 inches, makes it the ideal fit for littler hands too.
Price: $6.99 (45 percent off MSRP)
---
8. 17 Percent Off 'The Power of Positive Leadership: How and Why Positive Leaders Transform Teams and Organizations and Change the World' by Jon Gordon
Here's a hardcover book if you or someone you know could use some hardcore professional inspiration this holiday season. It's written by Jon Gordon, who's worked with many businesses, professional and college sports teams, hospitals, schools, and nonprofits, and consulted with leaders who have transformed their companies and organizations. He's a pro who offers a comprehensive framework filled with proven principles to help anyone become a positive, successful leader.
Price: $15.19 (17 percent off MSRP)
---
9. 38 Percent Off 'Hero Mom' by Melinda Hardin
The moms in this book may not leap over tall buildings in a single bound, but they are indeed superheroes. Yes, the moms in this book are military moms, constructing buildings, flying planes, making tanks roll, and more. It's a beautifully endearing hardcover book that will make any military mom feel touched, and her kids more proud than ever.
Price: $6.99 (38 percent off MSRP)
---
10. 47 Percent Off 'Transformers: The Covenant of Primus' by Justina Robson
For the true Transformers fan, this hardcover book goes deep into Transformers mythology to "reveal the backstory that's previously only been hinted at." The tome also features newly commissioned cover art, 20 newly commissioned illustrations, and many never-before-seen images from the Hasbro archive. The whole package is an awesome overall piece with collector appeal, as the book's encased in an interlocking Autobot emblem that emits Transformer sounds when opened.
Price: $35.99 (47 percent off MSRP)
Heavy, Inc. is a participant in the Amazon Services LLC Associates Program, an affiliate advertising program designed to provide a means for sites to earn advertising fees by linking to Amazon. Our product recommendations are guided solely by our editors. We have no relationship with manufacturers.
Fri Nov 24 '17 Announcement from AquaHub.v1 - Quest to quench the world
Source:
Indiegogo: Announcements
Friday, 24 November 2017 19:42
Thankful for the support we've received thus far!
To express our thanks and commitment towards bringing the AquaHub closer to fruition, we've decided to save the earth of it's finite resources. We have decided to source recycled material that'll be the basis for our enclosure and for specific areas of water generation within our system.
Stay safe, stuff your face, and sleep great. From team fyrfly to everyone out there- HAPPY THANKSGIVING.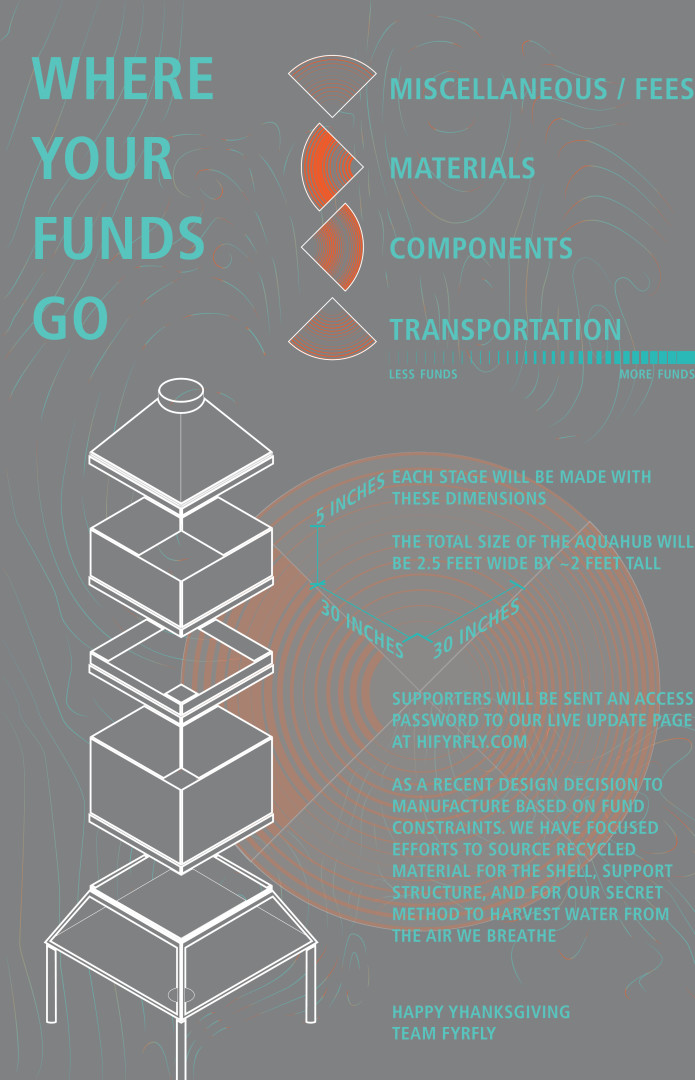 Signing these bills would just license more corruption


Source:

New York Post


Friday, 24 November 2017 19:41



New York's "economic development" programs are a joke — spending that rewards a few connected insiders while rarely delivering much real growth, let alone jobs. But the Legislature keeps trying to launch new ones. Three bills to do that (one on Gov. Cuomo's desk, and two headed there) deserve vetoes. As the Citizens Budget Commission...
Fri Nov 24 '17 Announcement from VI Continental Seed Freedom Summit -Guatemala 2018
Source:
Indiegogo: Announcements
Friday, 24 November 2017 19:38
We need you for the last push.
Warm hello from beautiful Lake Atitlan in Guatemala!
Its been a crazy ride for us here at Headquarters but we are super excited to see that we are almost there, to all of you that have supported us through this crazy ride we say thank you, your contribution is greatly appreciated even if it wasn't monetary, just the fact of taking the time to share the campaign helps us tremendously.
This is why we need you guys now more than ever, we are currently $1611 away from our goal of $10,000, please help us, by donating if you can or by simply sharing the campaign, we will be truly grateful, this fight is not only for us but for the future of seeds, we currently live in a socio economic bubble that sees only profit and completely alienates ourselves from our own human nature, help us save our seeds, our future, our culture.
sincerely the Seed Freedom team
<< <

Prev

1

2 3 4 5 6 7 8 9 10 Next > >>