Trump to order review of national monuments
Source:
POLITICO
Tuesday, 25 April 2017 20:19
President Donald Trump is set to order the review of tens of millions of acres of land and water set aside as national monuments by the past three presidents on Wednesday, a move that environmental groups warn will undermine a crucial conservation tool and open up sensitive areas to fossil fuel development.
The review will be conducted by Interior Secretary Ryan Zinke, who told reporters it would encompass up to 40 monuments created over the past 21 years, although the main focus will be on President Barack Obama's designation last year of Bears Ears National monument, as well as the Grand Staircase-Escalante National Monument protected by President Bill Clinton in 1996. Both of those are in Utah, and the state's lawmakers have pressed to revoke the monument status for the two sites, which are believed to hold fossil fuel resources.
But Zinke sought to quell concerns that the executive order would roll back conservation protections provided by 1906 Antiquities Act, saying the Trump's order "does not strip any monument ... or loosen any environmental conservation on any land or marine areas."
Yet environmental groups fear the review is a simply a pretense to unwind the federal protections in the future, since both Trump and Zinke have supported growing U.S. fossil fuel output.
The Antiquities Act is "one of our country's kind of bedrock conservation laws," said Daniel Ritzman, Sierra Club western public lands protection campaign director.
Sixteen different presidents have used the law "to protect some of our country's most special places. You know places like the Grand Canyon [National Park] started out out as a national monument," he said. "And it's not just our important landscapes that have been protected, it's also used to protect some unique American cultural sites, especially Native American cultural sites."
Presidents have also used the law to block off areas from fossil-fuel development, such as coal mining at Grand Staircase, but environmental and conservation groups worry those protections will be tossed aside as Trump looks for additional ways to unleash energy development on public lands and waters.
"This administration has made it clear that they're going to do the bidding of the oil and gas industry," said Jennifer Rokala, executive director of the Center for Western Priorities, a Colorado-based conservation group.
The order gives Zinke 45 days to file an interim recommendations, and 120 days to issue suggestions for legislation or for Trump to revoke or slim down the size of any monuments that cover 100,000 acres or more that were created under the Antiquities Act.
The order does not make any assertions as to the scope of Trump's authority to revoke monuments, Zinke said and he reiterated his belief that presidents can revise the scope of monument designations, though that the broader authority to delist monuments remains untested in courts.
While presidents have tweaked the size of their predecessor's monument designations — President Dwight D. Eisenhower, for example, reduced Colorado's Great Sand Dunes National Monument by 25 percent — none have fully revoked the status for existing monuments entirely. Environmental groups and tribal officials say they stand ready to sue over any attempts by Trump to change the footprint or eliminate existing monuments.
Obama used the power under the Antiquities Act to to protect more land than any previous president, from underwater canyons and mountains off Cape Cod to the vast Papahānaumokuākea Marine National Monument in the Pacific Ocean. His aggressive use of the Act drew scathing criticism from Republicans, who complained the White House abused the law to override local opposition and restrict development and usage of the lands.
Groups have already challenged two of Obama's monument designations, including a lawsuit by fisheries groups over the Northeast Canyons and Seamounts National Marine Monument off the East Coast, but neither of the cases address the scope of a president's authority to revoke a monument.
Meanwhile, the energy industry has been lobbying for access to more public lands — as well revisions to ease the environmental reviews and other permitting processes. The American Petroleum Institute in a January letter to lawmakers urged Congress to revamp the Antiquities Act, arguing the increasing use of the law presents "threats to responsible and balanced use of federal lands offshore and onshore."
"There's absolutely interest in developing oil and natural gas resources on public lands," said Erik Milito, API's director of upstream and industry operations.
"There's highly prospective areas for the industry and we've seen considerable development on state and private lands in the vicinity of public lands, which would demonstrate that there could be far greater opportunities if we had a more streamlined process and more opportunities by eliminating these types of obstacles to development."
Tue Apr 25 '17 Announcement from Help my Girlfriend is on the street is Urgent
Source:
Indiegogo: Announcements
Tuesday, 25 April 2017 20:19
Ayuda ella esta sola en la calle no tiene a donde llegar, la recibió una amiga pero solo para pasar la noche, la familia la saco de la casa, por que estaba chateando con migo la familia no la dejaba tener novio y yo no vivo en su país y ella esta sola, necesito recaudar dinero para enviarle y que se pueda venir a mi país.
necesito ayuda enserio estoy desesperado solo soy un joven de 18 años y ella acaba de cumplir los 19 años y esta sola necesito recaudar dinero para que se pueda venir ayuda por favor.

estoy muy asustado por que cuando la amiga no la pueda tener mas le paso algo en la calle.
Russian Hackers Who Targeted Clinton Appear to Attack France's Macron


Source:

Newsvine


Tuesday, 25 April 2017 20:19



The campaign of the French presidential candidate Emmanuel Macron has been targeted by what appear to be the same Russian operatives responsible for hacks of Democratic campaign officials before last year's American presidential election, a cybersecurity firm warns in a n …
Tue Apr 25 '17 Announcement from WOW-SOUND - The ultimate outdoor, portable speaker
Source:
Indiegogo: Announcements
Tuesday, 25 April 2017 20:19
Hi Everyone, it's been a process but our campaign is now FUNDED! Thank you!
This is the perfect time to get involved in the referral program. If you have any questions on how to participate you can see our last update with all the details on how to get your WOW-SOUND for FREE!
Our first stretch goal to include a speaker float and phone holder is only $10K away so help share the campaign with any friends that need the best speaker for outdoor fun.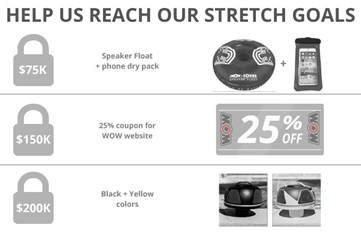 Since we are already geared up for production, we are ramping up our speaker delivery for June, the perfect timing for the perfect summer gadget. As we hone in on these last 10 days, please help us reach our stretch goals by sharing this campaign with your friends on social media, through email and even word of mouth.
Thank you for helping us reach our goal. We are excited for the next chapter of WOW World of Watersports and bringing you everything you need for a fun outdoor experience.
Jason
Representatives of the world music societies came together in New York to celebrate the 100th anniversary of Jevdet Hajiyev, a prominent Azerbaijani composer
Source:
Azeri America News
Tuesday, 25 April 2017 20:17
Representatives of the world music societies came together in New York to celebrate the 100th anniversary of Jevdet Hajiyev, a prominent Azerbaijani composer on April 5.
The event took place at the famous Carnegie Hall as part of the "Express Yourself in Music" Gala Benefit concert for children with autism, Azertac reported.
This international concert brought together musicians, fans of the composer and young talents from all over the world.
Among them were composer Alexander Peskanov, conductor Miriam Burns, singers Bogdan Petrenko of Russia and Sabrina Ozden of Vancouver, virtuoso violinist Elvin Hoxha Ganiyev of Azerbaijan, performer on Azerbaijani folk instruments Jeffrey Werbock of the USA, pianist Jelena Makarova of UK and many others.
Young pianists Ashley Ondoua Konga, Roopa Ranganath, Julia Meyerding, Kenny Ji, Ksenija Yanchuk, Makalaya Duyen Vu demonstrated brilliant performances.
The notable guests of the event included Yashar Aliyev, the Permanent Representative of Azerbaijan to the United Nations, Tofig F. Musayev, Deputy Permanent Representative of the Republic of Azerbaijan to the United Nations, Ambassador Agshin Mehdiyev, permanent observer for the Organization of Islamic Cooperation to the United Nations, members of the Azerbaijani communities of Florida, Ohio, Texas and many others.
The world premiere of A. Peskanov's "Azeri Rhapsody" composed in memory of Jevdet Hajiyev and his beloved wife Amina Dilbazi prompted standing ovations.
The Carnegie premier of "Lay-Lay" lullaby of J. Hajiyev was performed by soprano Sabrina Ozden, Jeffrey Werbock (kamancha) and Pervin Muradov (piano) who provided a vivid example of a piece where Eastern intonations blend harmoniously with Western concepts and where organic fusion between classical forms and folk music led to an exceptional flavor.
Sabrina Ozden is also an Ambassador of cultural exchange and cooperation program among the Silk Road cities.
Extraordinary rendition of J. Hajiyev's Scherzo by violinist Elvin Hoxha Ganiyev left no one indifferent.
English pianist Elena Makarova played a sonata for piano and also accompanied during the performance of "Scherzo" for violin. "Musical pictures" and "Ballad" were performed by young talents from four continents.
The conductors, orchestra and musicians managed to convey the full flavor, depth, and emotional experiences of the author.
The performers fully immersed in the images created by the composer, and thrilled the audience.
Jevdet Hajiyev left behind a legacy of masterpieces. Among them are eight symphonies, three tone poems, opera "Veten" (Motherland) written in collaboration with G. Garayev, string quartets, ballade and sonata for piano, solo and choral works and many others. These works are among the jewels of classical music that continue to delight listeners and glorify music of Azerbaijan all over the world.
<< < Prev 1 2 3 4 5 6 7 8 9

10

Next > >>