Wilmer Flores' blast a reminder of his iconic Mets moment


Source:

New York Post


Sunday, 23 July 2017 01:05



The last time — the only other time — Wilmer Flores had clubbed a walk-off home run came on that unforgettable July 30 night two years ago against the Nationals in the wake of his tearful near-trade to the Brewers. This time, when he hit one into the first row of the lower left-field stands...
NASA's newly released video archives contain a skyfull of goodies


Source:

VicksWeb News


Sunday, 23 July 2017 01:05



Feast your eyes on the friendly skies.<p>NASA is forever linked to space, a plucky government agency bravely hurtling people and robots into the great beyond. Yet the agency has always had as much of an earth-bound mission as an outer space one. The "Aeronautics" at NASA may get short shrift, but with …
Internal power struggle rattles Guggenheim Partners


Source:

New York Post


Sunday, 23 July 2017 01:00



A titanic war is brewing between the principals at Guggenheim Partners, with more than 10 senior execs defecting in the past year or so. The $240 billion money-managing firm has been divided into two camps: Those loyal to Mark Walter, the founder and CEO, and the money managers who report to Chief Investment Officer Scott...
Chester Bennington And Chris Cornell: LP Vocalist Might Be Buried Next To Longtime Friend
Source:
inquisitr
Sunday, 23 July 2017 00:57
Chester Bennington and Chris Cornell were the frontmen of two of modern rock's most recognizable and successful bands — Linkin Park and Soundgarden, respectively. But with Cornell having committed suicide in May and Bennington ending his life in a similar way about two months later, it would now seem that the two rock icons may be buried side-by-side. That is, if Bennington's family reserves the vacant plot beside Cornell's grave at the Hollywood Forever Cemetery, as a new report is suggesting.
According to TMZ, there's a good chance that Bennington's family may inquire about buying the vacant burial plot next to Chris Cornell's final resting place at Hollywood Forever. This would allow the Linkin Park frontman, who committed suicide on Thursday at the age of 41, to be buried beside his close personal friend, who killed himself on the early morning of May 18, right after a Soundgarden concert in Detroit.
Click here to continue and read more...
Kendall Jenner's Underboob Pic Is Taking The Internet By Storm As BFF Gigi Hadid Shows Cleavage In Hot Photo
Source:
inquisitr
Sunday, 23 July 2017 00:55
Kendall Jenner has posted a very revealing picture of herself on Instagram, and she's already getting a lot of flak for it. The Keeping Up With the Kardashians star took a shot of her underboob in her hotel room and is getting a lot of criticism for the picture, and there were a lot of fans who criticized her for "being like the Kardashian sisters."
"A bit inappropriate," said one.
"You do realize there are 10-year-olds who follow u," said another.
Kendall Jenner isn't used to posting such pictures on Instagram. Kendall, who is a high fashion model, usually sticks to very well shot and conservative photographs. However, this time around Kendall broke the norm and posted a very revealing picture. She captioned it "jet lag." The fans were not happy with the picture, and they accused Kendall Jenner of being a bad influence on young girls.
Click here to continue and read more...
Sat Jul 22 '17 Announcement from The Atom - The Ultimate Micro-Racing Drone
Source:
Indiegogo: Announcements
Sunday, 23 July 2017 00:54
Howdy Atom Pilots and Supporters,
Today I want to announce some of our new upgraded parts available for your RotorX Atom V2/V3.
Upgrade your Atom to a 5S powered micro rocket ship.
We are constantly pushing the limits of what you can do with micro racing drones. From improving propeller and motor performance, to working with battery manufacturers to ensure you have the best available for your Atom.
To keep on top of what new products are being released, be sure to like and follow our Facebook Page.
Upgraded Atom parts:
- Brand new RX3044T Industry leading 3" Triblade Propellers
Get them from your local retailer
- RX1407-2800kv 5S capable motors
Get them from your local retailer
- 460, 600 or 850mah 5S RotorX and Bonka Powered LiPo Batteries
Get them from your local retailer
- Upgrade from Atom V2 to Atom V3
If you still have the Atom V2 with 4in1 ESC, you will need to upgrade to run this 5S system.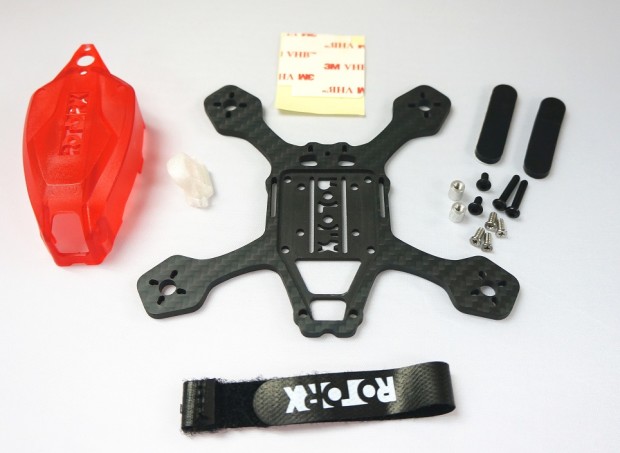 Get your V2-V3 Upgrade Kit Here
Directions:
To upgrade your Atom for 5S performance, simply order the parts you need above and follow our Atom build guide.
Get an Atom Frame from a retailer near you
With the 5S capable Atom V3, we use the TBS Powercube with 2in1 ESC.
Though you can use any 20x20mm or 36x36mm electronic stack that can handle 5S.
Or if you want to simply get the best of everything available to make you the most powerful 3" micro available on the market today, simply grab a RotorX Atom V3 DIY kit.
It comes with everything you need to build a 3", 5S powerhouse, just add the 5S batteries.
Your flying buddies wont know what hit them when you punch and weave this guy around your favourite flying spot!
Get Atom V3 DIY Kits from a Retailer near you
Now you know what you need to build the ultimate 3" Pocket Sized Rocket Ship, click over to one of our retailers and get everything you need to start building!
Be sure to post your builds in our #RotorXAppeal BUILD COMPETITION and we will may even send you some more freebies for you troubles...
<< < Prev 1 2 3 4 5 6 7 8

9

10 Next > >>